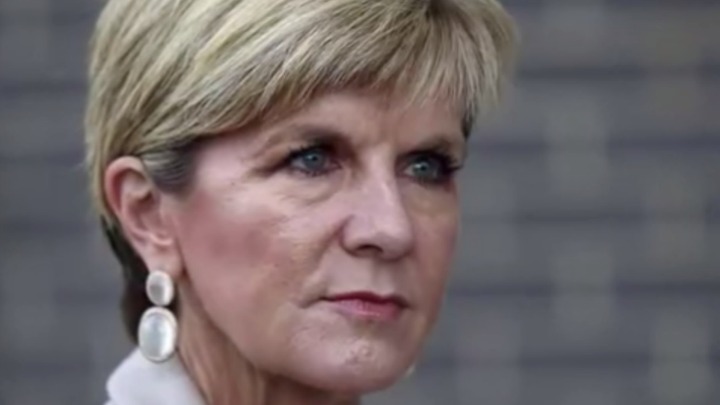 With polls suggesting the result could now go either way, this is the last thing Julie Bishop needs.
Fairfax Media has exposed photos and a video of Ms Bishop using her phone, while driving this – her campaign car!
Her partner David Panton was travelling in the passenger seat beside her in the vehicle which had her picture plastered on it.
In Western Australia, using a phone while driving attracts a $400 fine and the loss of three demerit points, reports SMH.

Ms Bishop's recklessness will be an unwanted distraction for the Coalition on the crucial final day of an increasingly close election.
Fairfax Media contacted Ms Bishop's office late on Thursday and in a statement issued this morning (Friday), Ms Bishop conceded she had done the wrong thing.
"Everyone should comply with the law and I will ensure this does not happen again," said Ms Bishop.

The witness said he was driving along the Great Eastern Highway in Perth just past the Burswood Casino at 4.50pm on Thursday when he noticed Ms Bishop's emblazoned campaign car.
"I thought it was funny to see a Toyota Yaris with Julie Bishop's face on the side. Then it was even funnier when I realised it was actually Julie Bishop driving the Julie Bishop car," he said.
"Then it wasn't so funny when I realised she was using her phone as she drove. It was clear that she was holding the phone and using her thumb to swipe. I don't know if she was texting or checking Facebook or something."
The witness observed Ms Bishop using her phone for about two minutes during slow-moving traffic and both cars were even stuck at two sets of red lights.

Here's a twist to this story, the witness also conceded he was also driving his car when he took the picture. However, he said he felt obliged to document the moment when he realised such a senior minister was flouting the law.
WA law states: "Whilst driving, you can only touch a mobile phone to receive and terminate a phone call if the phone is secured in a mounting affixed to the vehicle. If the phone is not secured in a mounting, it can only be used to receive or terminate a phone call without touching it (e.g. using voice activation, a Bluetooth hands-free car kit, ear piece or headset)."
Ms Bishop who is a key asset in marginal seats for the Coalition has been campaigning for Malcolm Turnbull to return to the government and this snag might get her the wrong kind of attention. It's not uncommon for Australian pollies to be caught for committing traffic offences.
Six months ago, Labor leader Bill Shorten was fined $443 by Victorian Police for texting as he drove his 4WD along Kings Way in Melbourne.
Once images of him using his phone hit the media, Mr Shorten contacted police saying: "There's no excuse for it. I shouldn't have done it and won't do it again."
Why do you think pollies keep on making these same mistakes?
Comments