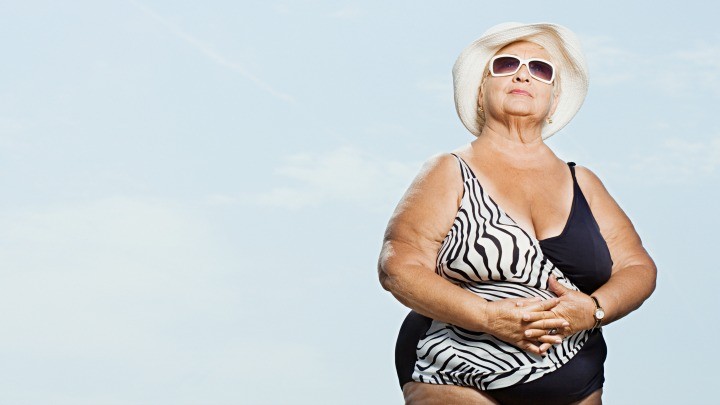 I've always been a bigger girl, and loving your body as it ages ain't always easy. However, at age 60 I've finally reached some self-acceptance, and think you can too…
When I was a little tyke, carrying extra kilos didn't really bother me. In fact, I never even though of myself as fat. My mum was Scottish and loved to bake, so she was unapologetically "bigger" too.
Mum made the best made Dundee cakes, potato scones and crumpets. My dad used to joke that there was "more of Mum to love", so being fat wasn't really something I saw as "bad".
When I started school, everything changed though. I became the "fat kid", and it didn't really help that my first name started with an F.
Fat Fiona* was just too easy for other students to target me with. They were relentless and cruel in their taunts, calling me a "pig in plaits" amongst other horrible things, which stick with me today.
For the first time, I became ashamed of my body. I wouldn't let Mum braid my hair, and I stopped taking her baked treats to school.
By the time I was sixteen, the situation was much worse. Puberty had set in, and with it came my "Scottish bosom" as Mum called it.
Boys didn't seem interested in me though. I was round, with red hair and freckles. I had also become incredibly shy and resisted going out to dances, parties or school events.
When my Year 10 Graduation rolled around, I decided to stay home instead. Finding a dress had been too stressful, and I was mortified about being the "big girl" on such a special occasion.
Staying home that night broke my heart. I felt like everyone else in the world was "worthy" of attention and praise, except me. I've never felt so ashamed of myself, just for being who I am.
During my twenties and thirties, I tried every diet under the sun. I embraced Weight Watchers when it came to Australia, did the Grapefruit Diet, and even restricted myself to 1,000 calories each day.
Fortunately, I was blessed enough to marry a caring man named Bruce*, who thought my red hair and freckles were beautiful. Child-rearing helped shed the kilos too, whilst I ran around after my daughter Aileen*.
Even then though, I let my body stop me from "getting social". When Bruce and Aileen went to the beach, I sadly sat on the sand in a long kaftan. I didn't like dressing up for Bruce's work dos, and always felt nervous if I had to attend some type of "event".
When Aileen wanted to go shopping, I asked her auntie to take her instead. As Aileen's own Year 10 Graduation came up, the event brought back painful memories for me.
Thankfully, Aileen's night was fun-filled and she looked beautiful in a green gown with black court shoes. Even so, the way I felt towards my own body was dreadful and self-loathsome.
Looking back now, I realise that my 20s, 30s, 40s and even 50s were actually the best time for my body.
Even though I was "fat", my body could move freely, my eyes were strong and my health wasn't bad. I'd spent decades worrying about how I look – how foolish that seems now!
I could have embraced so many more experiences, if I hadn't let self-consciousness get in the way. On my 60th birthday though, everything changed for the better.
"We're throwing you a party, Mum", Aileen insisted. "Let's make it Paris themed, and we can all dress up! I can help you choose an outfit, you won't need to worry".
Easier said than done, though. Straight away, my stomach had filled with dread about the idea of dressing up, being seen in public, or feeling judged.
Despite my protests, Aileen took me to a store which specialised in plus-sized designs. In spite of myself, we found a beautiful, long, glittering black dress.
Bruce bought me a gorgeous necklace with a tiny Eiffel Tower charm on it. Before I knew it, my sixtieth birthday party came around… and I was terrified!
Waiting to go outside and greet my small collection of friends and family, I felt sick with nerves. My gown was too "much", I looked ridiculous in heels, I should have put my hair up – or so I felt.
"You look beautiful, Fi!" my friends told me. "It's so nice to see you all dressed up", my cousin approved. Bruce was the most impressed – he kept introducing me as "the beautiful birthday girl".
Even though I hadn't lost any weight, I suddenly felt better about myself. That night, I danced with my friends, sipped some sparkly and even let Aileen take a couple photos.
The next day, I realised that I'd actually had fun. I hadn't let my body stop me from getting "out there". The support of my husband and daughter had brought me "out of my shell".
I'm now over 60, and I want to share this special message with you: Life is too short to feel "trapped" by your own body. We are all our own worst critics.
To hell with feeling "less than" other people, and diets can be damned! Just move your body, eat well and don't worry so much. Life is meant to be lived, in the beautiful body that God gave you.
We'll always regret the things we didn't do, rather than those things we did. Don't let your body hold you back, your 60s are meant to be enjoyed… Trust me!
Have you ever let your body perception stop you from doing something fun? Can you relate to this woman's raw and honest story?
*Names changed to protect privacy.
Comments