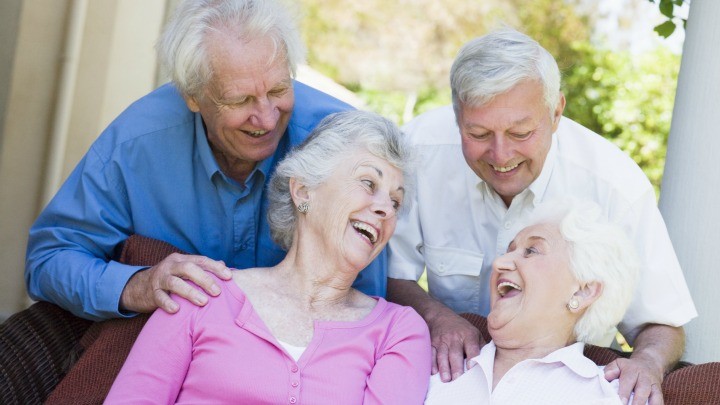 Sadly younger people are still looking at the older generations as needy, frail, a drain on society etc.
I would like to shout from the rooftops – wake up 'young' guys and girls!
I recently observed by simply walking down the street and observing various generations shopping in stores and supermarkets just two days ago.
There were far more happy over 50 and 60 year olds, in fact older senior people generally that were visibly more happy than teenagers and slightly older.
It hit me that maybe older people know how to age as well as other things that younger people don't know about, living a happy, healthy, fulfilling life is what we should all strive for – at any age don't walk around with the 'world' on your shoulders.
I looked at dozens and hundreds of young men and women, very few had a smile readily visible.
We can certainly all learn from those who have been through life ahead of us, particularly older people with a great attitude that are aging well. Talking to older people can be interesting and entertaining.
I don't think it is my imagination but I can't recall many comedians dying at an early age, which is surely no coincidence they…laugh a lot!
As one older person remarked… we don't waste your time worrying about getting old. It can be a time of opportunity, growth and adventure. Seen as a quest, not an end.
 Stop using "I don't care how long I live" as an excuse for bad health habits. Behaviours like smoking, poor eating habits and inactivity.
Don't spend a lot of time fretting about your own mortality. What the experts recommend is careful planning and organisation for the end of life.
Keep up with technology …the threat of social isolation in middle age and beyond, should be taken seriously you should make conscious efforts beginning in middle age to stay connected through new learning opportunities and relationships.
Plan ahead don't let fears and prejudices deter you or your older relatives from considering a move to a senior living community. Such a move often opens up opportunities for better living, rather than limiting them. Plan short getaways with people that make you laugh and feel goo
I would add to the above – laugh a Lot, even when times are looking a little grim, there is no blue-print on how to age but I can assure you, a sense of humour gives you a special edge.
Originally published here
Do you think having a sense of humour makes a crucial difference to ageing?
Comments