How I learned to accept my body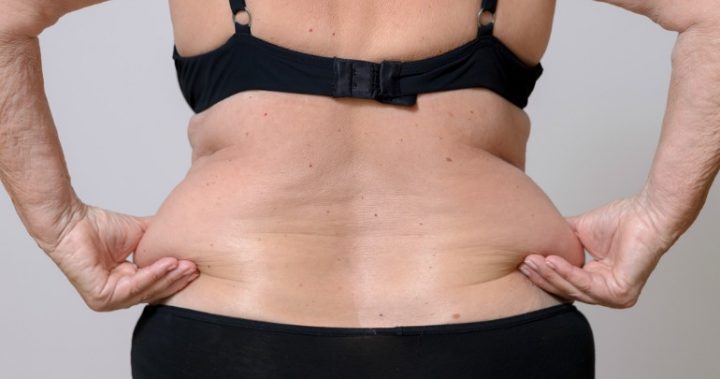 Like most people I've always had a love-hate relationship with my body and have spent years going from diet to diet.
From a young age I was always a heavier girl. At school I was teased by the other kids for being chubby and sometimes struggled to keep up with school yard games.
As we all know, kids can be cruel and I remember their taunts causing my eyes to well up with tears as I wondered why I didn't look like the rest of the girls in my class.
They were pretty and slim with shiny hair and perfect dresses, while I had unruly curly hair and baby fat that never seemed to disappear.
It's not to say I didn't have a happy childhood. My two best friends from high school are still my closest friends today and we had plenty of fun together going to parties, seeing bands and travelling together.
Ad. Article continues below.
But there was always that lingering feeling of not being enough. Not pretty enough, skinny enough, or stylish enough.
In my late teens I started my first diet – one that I'd read about in one of my mother's magazines.
I followed the rules and ate fruit for breakfast, veggies for lunch and soup broth for dinner. I think I lasted three days.
Going to the beach was a nightmare in itself and I actually came to dread summer every year. While my friends threw on their bikinis and oiled themselves up on the beach, I kept my shirt on over my bathers and tried to discreetly cover my legs with a towel.
My friends were aware that I felt uncomfortable in my own skin and always did their best to make me feel better, telling me there was nothing wrong with the way I looked and that I looked nice whenever we got dressed up to go out. I'm so grateful I have them in my life.
Ad. Article continues below.
There are some moments that stand out over time; moments that still sting when I think about them.
When I was in my early twenties, I worked as a receptionist for a car dealership. It was a man's world and myself and one other girl, Janet, were the only females in the office.
For some reason birthdays were a big thing there and everyone got a gift from the whole office on their special day. On Janet's birthday she received flowers and chocolates and a beautiful chocolate cake.
On my birthday, I arrived to find a diet book wrapped in a red ribbon. I could feel the back of my neck burning as I turned red knowing that everyone was watching on laughing behind their hands.
It was moments like this that propelled me into periods of self-doubt and disgust. I hated the way I looked and felt and spent years yo-yo dieting and going up and down in weight.
Ad. Article continues below.
In my mid-twenties, I met the man who later became my husband. While I still had my insecurities, it was comforting to know he loved me anyway.
We married and had two beautiful children – a boy and a girl. Having them distracted me from my obsession with my body and for a few years I was too busy to think too much about my diet or my looks.
It was special occasions like weddings, graduations, and birthday parties that caused my insecurities to rear their ugly head again.
Two years ago though, I had a turning point. My daughter got married and as the mother-of-the-bride, I was of cause unbelievably happy for her, but also somewhat nervous about having to appear in so many photos and stand up in front of everyone as I delivered a reading in the service.
I chose a navy blue dress with a lace overlay for the occasion. My daughter and I had our hair and makeup done together and as I was making the final adjustments to her dress before she walked down the aisle, she turned to me and thanked me for being her mother, for loving her and supporting her for her whole life.
Ad. Article continues below.
She told me I was the most beautiful mother-of-the-bride she had ever seen and as I pulled her in for one final hug before she started this new phase in her life, I felt like a weight had been lifted off my shoulders.
Almost like a switch flicked in my brain, I came to the realisation that I allowing myself to be consumed with doubt was only holding me back from being truly happy.
The love I have from my children and my husband is enough to fill the gap I had left from not being able to love myself.
It's been years of ups and downs, but I've finally learned to be happy in my own skin. I have everything I need thanks to my family and I learned to let go of the self-doubt and the hate.
I've finally accepted my body and I'm truely content at last.
Can you relate to this writer? Have you worried about your body over the years?