How a simple tea towel could change your life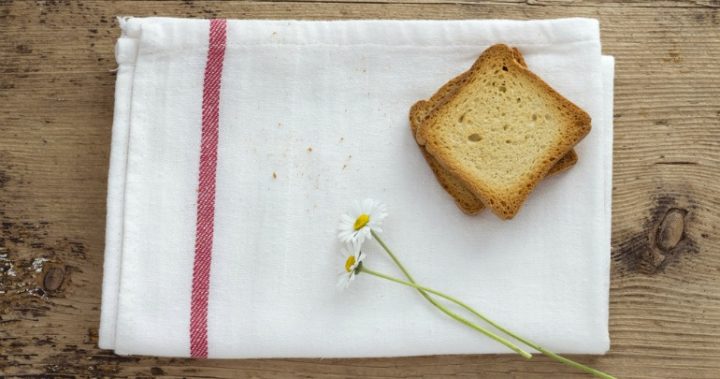 The internet has gone bonkers over Ikea's TEKLA dish towel which sounds nuts because honestly, how can a tiny tea towel create this much buzz? 
Ikea's US website has been inundated with positive reviews for the towel which retails for a mere $0.49 here in Australia. 
Users have branded the 100 per cent cotton dish towels as "very durable" and a "kitchen staple". 
One happy customer even said the towel was "a real workhorse in the kitchen" as apparently, the little towel that could gets even better with time. 
"For the past several years I have been using the TEKLA towel around the house instead of paper towels," one wrote. "I keep a couple of dozen in a basket in the kitchen and grab them for regular clean-up jobs. They wash well and are priced well. Just dump them in the wash each week and they can be reused for a couple of years."
Ad. Article continues below.
And now it seems many people are repurposing the towels for a variety of uses – one mummy blog even shows how to turn the tea towel into a bag for children's toys and even Martha Stewart recommends dyeing the towels to use as dinner napkins. 
But it's the home reviews that are quite possibly the most inventive:
"I use them for just about everything the other reviewers do, but I also use them to keep my garden greens fresh in the refrigerator," one reviewer wrote. "I wet the towel and wring it out as thoroughly as I can, then wrap the greens in the towel and place on a refrigerator shelf. The greens stay crisp quite a while this way. They might not be the prettiest towels in the kitchen, but they are the most useful."
Another has even been using them to mop up her children: "I have cut them in half and used them to wash up babies after meals … just perfect."
And one lady's husband has also found a use for them; she writes: "Have purchased these towels previously for the kitchen, but my husband also loves them for projects in the garage. Can't beat the price!"
However it was this review that has everyone in awe of this towel's many uses: "They make a bathroom hand towel that no one worries about actually using, and with the loop it comes in very handy at the gym to make sure only dry bottles get packed into the bag after one's shower."
How many tea towels do you have?