Helping others has shown me how lucky I am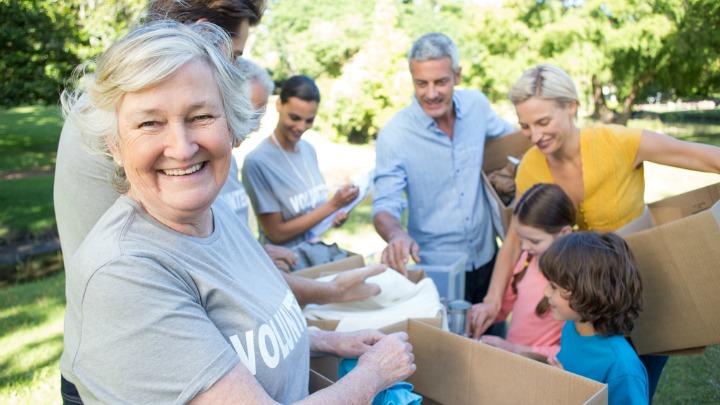 When she retired, Margaret wanted to find an activity where she could interact with people of all ages and do something worthwhile with her time. She had always been interested in supporting the education of disadvantaged Australian children so she started volunteering at the The Smith Family.
In 1994, Margaret applied for a volunteer clerical position assisting the fundraising manager at The Smith Family, and was accepted.
Now, more than twenty years later, Margaret still comes to their national office every week where she now assists their Supporter Care Team.
"[Initially] I was helping [the fundraising manager] in a clerical capacity. Sometimes it was typing letters. Sometimes it was stuffing envelopes. Sometimes it was ringing up people when we received returned mail," Margaret remembers.
Today, Margaret helps to manage the process of forwarding many hundreds of letters and parcels from sponsors onto their students – an important task she thoroughly enjoys too.
So what has kept Margaret coming back for so many years?
Ad. Article continues below.
"It's as good for me as it is for The Smith Family because I certainly enjoy it. It's essential for me as a senior citizen to interact with people of all ages. The routine of having a commitment every week is important, and the fact that I feel appreciated here," she says.
"I'm happy that I have been able to contribute for so long. This is an organisation that obviously does give back to the community and where the staff seem to be happy. All in all, it's a pleasant place to be."
Many over-60s look to volunteer work to fill their time. But what they get in return is more than just time-filled. Volunteering provides many benefits to both mental and physical health. According to Helpguide.org, here are just some of the benefits of volunteering:
Volunteering helps counteract the effects of stress, anger, and anxiety. The social contact aspect of helping and working with others can have a profound effect on your overall psychological well-being. Nothing relieves stress better than a meaningful connection to another person. Working with pets and other animals has also been shown to improve mood and reduce stress and anxiety.
Volunteering combats depression. Volunteering keeps you in regular contact with others and helps you develop a solid support system, which in turn protects you against depression.
Ad. Article continues below.
Volunteering makes you happy. By measuring hormones and brain activity, researchers have discovered that being helpful to others delivers immense pleasure. Human beings are hard-wired to give to others. The more we give, the happier we feel.
Volunteering increases self-confidence. You are doing good for others and the community, which provides a natural sense of accomplishment. Your role as a volunteer can also give you a sense of pride and identity. And the better you feel about yourself, the more likely you are to have a positive view of your life and future goals.
Volunteering provides a sense of purpose. Older adults, especially those who have retired or lost a spouse, can find new meaning and direction in their lives by helping others. Whatever your age or life situation, volunteering can help take your mind off your own worries, keep you mentally stimulated, and add more zest to your life.
Volunteering helps you stay physically healthy. Studies have found that those who volunteer have a lower mortality rate than those who do not. Older volunteers tend to walk more, find it easier to cope with everyday tasks, are less likely to develop high blood pressure, and have better thinking skills. Volunteering can also lessen symptoms of chronic pain and reduce the risk of heart disease.
But what if someone has a disability or a chronic health condition? Just like everyone else, they too can still benefit greatly from volunteering. In fact, research has shown that adults with disabilities or health conditions ranging from hearing and vision loss to heart disease, diabetes or digestive disorders all show improvement after volunteering.
Do you volunteer?