Gross demo shows how dirty sheets get after a month with no wash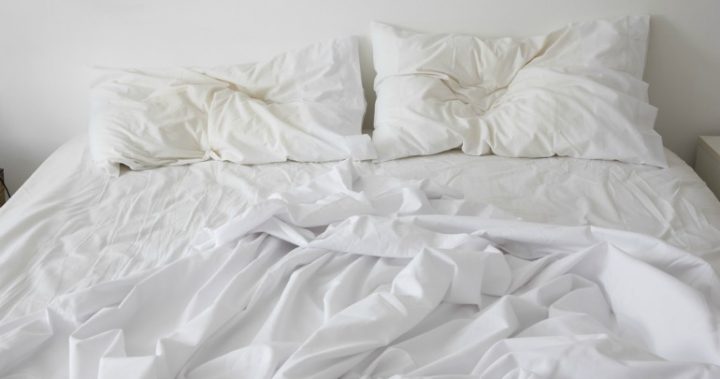 What's lurking in your bed? You might be surprised at what you will find, especially if you haven't washed your sheets for a while. Or vacuumed the mattress, for that matter.
A British woman named Karen had the surprise of her life when an expert from Rentokil did an experiment on her mattress on live television for This Morning.
He used a powerful vacuum on her mattress, and displayed the collected dead skin cells, dust mites and bacteria that resulted in a puddle of dirty brown liquid.
"That is just shocking, absolutely shocking. I can't believe how much dirt was in there", Karen said.
You can watch the episode below:
Ad. Article continues below.
You might be tempted to wash your sheets after watching this! ? https://t.co/j7dVqcDmcz

— This Morning (@thismorning) July 21, 2017
Read more: Make some old-fashioned fabric softener for a great sleep.
What some viewers found the most shocking, though, was Karen's next statement. The Birmingham woman admitted that it had been about four weeks since she had washed her sheets, saying that she often left them for three to four weeks without a launder.
Many took to social media to vent about her not-so-clean habit, or to confess how often they change theirs.
Ad. Article continues below.
Who doesn't change their bed for 4 weeks??? Urgh!! And why the hell would you admit to it on national TV??? #ThisMorning

— Rebecca (@rebbedy1802) July 21, 2017
4 weeks .. 4 WEEKS to change a bed sheet . NO WAY . Hand on my heart i change mine twice a week every Weds & Sat @thismorning 100% truth

— Skylar (@Skyseys) July 21, 2017
#ThisMorning i change my bedding every week, how can these people sleep in such filthy beds? Uck

— Sylvia (@go_dizzy_go) July 21, 2017
Ad. Article continues below.
It turns out you should not only wash your sheets in hot water on a regular basis, you should also vacuum the mattress and give it a good airing out by opening the bedroom windows, to avoid a result like Karen's, just hopefully not on national television!
What's the average time before a sheet wash in your household?