Granny chic and generation yawn, being old is suddenly cool!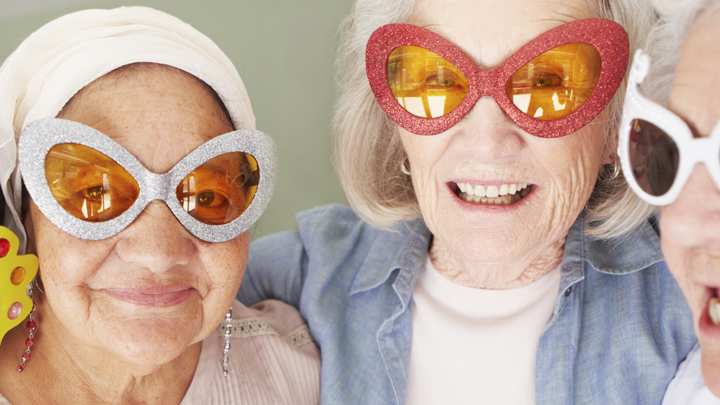 Does anyone else find it hilarious that while we're all running around proving that 60 is the new 40, 20-somethings are determined to act like little old ladies? It's a phenomenon that has earned them the name "generation yawn" and it's becoming more and more popular.
Instead of going clubbing in tight little outfits on the weekend and sleeping in until 10am after a big night drinking, young women all over the place are choosing to have at home dinners with friends, replace the vodka mixers with wine and spend their time doing arts and crafts. No tight dresses, no stiletto heels, just comfortable clothing and sensible shoes. This behaviour is something that would stereotypically occur much later in life, but instead it's the 20-somethings who are all for this trend.
While speaking to The Boston Globe, Emily Matchar, author of 'Homeward Bound: Why Women Embrace the New Domesticity' said, "I think a lot of this is a reaction to the hyper-capitalist, sped-up 21st century, I think the pendulum swings back and forth when it comes to what's fashionable. What our parents liked is uncool, what our grandparents did is cool".
Jenifer Drew, associate professor of sociology at Lasell College in Newton, echoes Matchar's sentiments. Nostalgia and old-fashioned pastimes, she says, give young adults a break from today's pressures. "Millennials harken back to their grandparents' generation," says Drew.
"Their parents' '70s and '80s offer slight refuge, what with disco and the sexual revolution turning sour with the AIDS epidemic. For a generation that seeks relief, only 1950s housewifery looks relaxing. Gen Y turns to vinyl over CDs, slow food over competitive restaurant sampling, and board games over beer pong. Distance and nostalgia offer safety and refuge from the double burden of trying to decide who to be, while being obliged to be completely public about it in real time".
Ad. Article continues below.
Who would have thought that the life we avoid living is suddenly trendy!
And it is, in a big way. Even Vogue Magazine are supporters of it all with their latest tweet about "granny-chic" style…
Love the granny-chic look! What are you wearing to your 9 to 5? @voguemagazine http://t.co/QFEhO7W8zE pic.twitter.com/Fu6T8b5s5y

— S+L PR (@slprco) June 4, 2015
Crochet is suddenly cool again…  
Ad. Article continues below.
Birds and bees in a granny chic crewel sweater visiting @Gucci #Toronto today for #fall2015 trunk show. pic.twitter.com/evvKQaw7uM — Bernadette Morra (@BernadetteMorra) April 30, 2015
And grey hair is all the rage…
The #grannychic trend is still going strong. Would you dare to go grey? http://t.co/hOqwteoujW #greyhair pic.twitter.com/f8cUOvsRXl

— Supercuts UK (@SupercutsUK) May 31, 2015
So tell us, does the granny chic trend suddenly make you want to embrace your age? Do you like the idea of acting older than you are? Share your thoughts in the comments below…