Downsizing but still want space for visitors and for the grandchildren?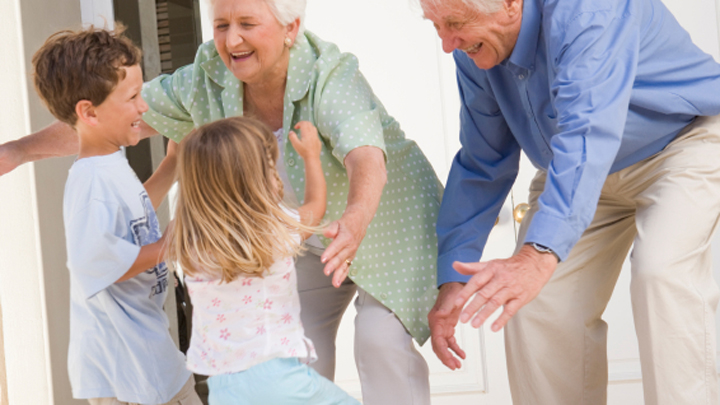 The family home is getting too big to maintain and you've been looking at your downsizing alternatives. You've found the perfect unit to downsize to, in the perfect area, close to all the amenities you need and family are close by. You're going to downsize. You get back home, look around and wonder where is the space to accommodate our visitors or grandchildren if they want to stay?
This is a common concern for a lot of people. How can you make it work? You probably currently have enough space for the visitors and grandchildren to have their own rooms when they stay. How do you deal with not having as much space when you downsize to your unit?
It's always good to think about the reasons why you are downsizing in the first place. The reasons will be varied, but mostly because you can no longer, or wish to no longer, maintain the yard and garden, the housework and everything else that goes with managing a larger home. It was okay when all the family were living there. But not many of us want to be cleaning and maintaining unused spaces.
A few things to think about to be able to downsize and still have space for your guests:
• Set up a space in your spare room. This is in most cases the study. You can set up your home office space with desk, chair, filing cabinet and have the sofa bed in the same room. You have a lounge chair for your reading day to day and an overnight space for guests when they stay. Be sure to leave some space in the cupboard for your guest's belongings.
• Change your lounge suite to include a sofa bed. Lounge by day, bed at night. This is quite a popular idea.
• Large lounge/dining areas in units are good, as they can accommodate the family, and you can still cook the family meals and get everyone together.
• Large patio spaces are great for entertaining.
• A smaller kitchen and larger entertaining spaces is the way to go.
Ad. Article continues below.
When downsizing it's good to rethink your spaces to work smarter for you. Have everything you need to live comfortably set up as you would like it, and work the other things in around this. There is no need to spend an extra sum of money for that extra room to accommodate a guest 1 night out of 7. This is thinking smarter. In the case of grandchildren, having a camp out in the lounge room would be a dream come true.
There is always a solution. With so many organising products and solutions on the market, the problems of space can be easily solved. You don't have compromise on the things you enjoy just because you're moving to a smaller space.
Embrace and enjoy.
Are you downsizing? Or have you recently? How did you or will you have space for visitors? Tell us below.