Downsize with style with these clever tricks
Sponsored Content
Lifestyle
11 months ago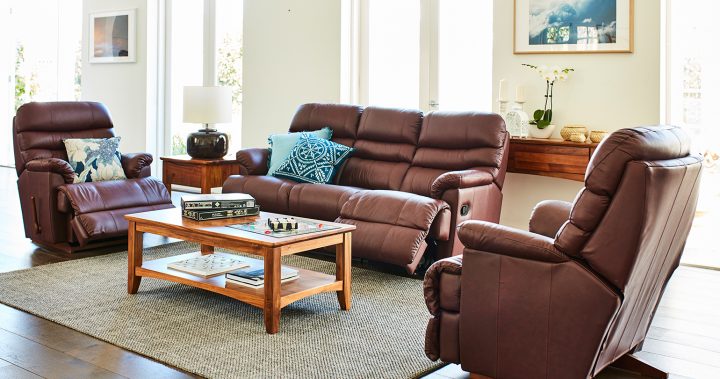 Downsizing, but don't want to compromise on style?
Moving to a new home, especially one smaller than your current abode, is often a time to rethink lounge room furniture.
Often these large changes can be tough but why not celebrate with a new look, colour palette a fabulous new piece of artwork or new furniture.
There are clever tricks to help you work out the best options for your new space before you hand over your hard-earned cash.
How much space do you have?
The first thing you need to do is measure up the new room, which means getting out the tape measure and measuring not only the floor space but the wall height as well. That will give you a real insight into the space you have to work with.
Don't forget the door spaces and, if you're moving from a house to a multi-storey building, elevator sizes, too. You need to know you can get your furniture into the room!
If you already have access to your new living room, you can place something on the floor, such as cut out and taped-together newspaper, that's the same size as your furniture pieces. That way you can clearly see for yourself how things will fit. This is a great way to try a few configurations, moving things around before the real, and heavy, furniture is in place.
If you can't access your new space, get out a pen and paper and draw up a floor plan, including windows, doors, air conditioners and power points, so you can plan the best location for items like the television, as well as the placing of the larger furniture items.
Going shopping
Before you start furniture shopping, take note of the colour scheme in the new room. If you don't intend to repaint to match your own tastes, it pays to have a few photos of the colours on your phone, so you can compare fabric swatches if you are trying to match or compliment colours while in a store.
Look for design details when choosing a new piece, to give you more layout options. Modular designs can be left- or right-sided and some can switch to work both ways, so make sure you the right one for your space.
If purchasing recliners, remember that they can't go right against a wall so allow additional space for them.
And don't let yourself get swayed from your priorities. Do you need something easy to get in and out of, a soft comfy seat or firm hold, soft or easy-clean fabric, or build-in storage?
If an 'accent' chair is on your list, the colour doesn't need to be an exact match for the rest of your furniture. If it is a complimentary colour, a stand-out piece in an interesting pattern often works well. You can help it blend in by adding a cushion in the same colour as your lounge to the accent chair, or buy or make some cushions in the accent colour or pattern to add to your existing lounge.
Talk to the people in the trade
Retailers such as La-Z-Boy will help you get the right size, comfort level and coverings for your furniture. You really don't have to make all these decisions alone, they specialise in offering customised furniture that suits your space, comfort and style requirements and when you're investing in furniture that's worth a lot.
In a new space you can really take the time to create the comfort and style you desire with customising your new furniture so have a chat to those who are in the trade.
Tricks for smaller spaces
Make a statement. Stick to one large, statement piece in your lounge room and balance the room with smaller pieces to add contrast.
Make your furniture multitask. Look for an ottoman that has storage space inside. Or, a footstool or a vintage chair can also be used as a coffee table or stool.
Colour-code to expand your space. Walls and floors of a similar colour draw the eye up and make the room appear bigger than it is. You can use a rug on the floor or open shelves or bookcases that extend to the ceiling, if you don't want to commit to changes in wall paint or flooring.
Use your lounge or a chair to introduce your boldest colour, then accentuate it with decorative pieces in a matching or complementary colour. Vibrant colour makes a room cheerful and bright.
Apply the rule of threes when it comes to decorating. Select a colour from your lounge, add two complementary colours and repeat that colour scheme least three times throughout the room, using cushions, rugs, or decorative pieces.
Think outside the square
Discovering that your new lounge room can't accommodate that special piece of furniture you love doesn't mean it can't come with you.
Your favourite recliner might work well in a spare room that could be turned into reading sanctuary. Likewise, a vintage stool might be perfect as a seating space in the garden.
Making new uses of old favourites is what adds your personality and innate style to a new home!
Have you ever had to fit beloved furniture into a new, smaller home? How did you tackle the problem?