How to make your own Macrame plant hanger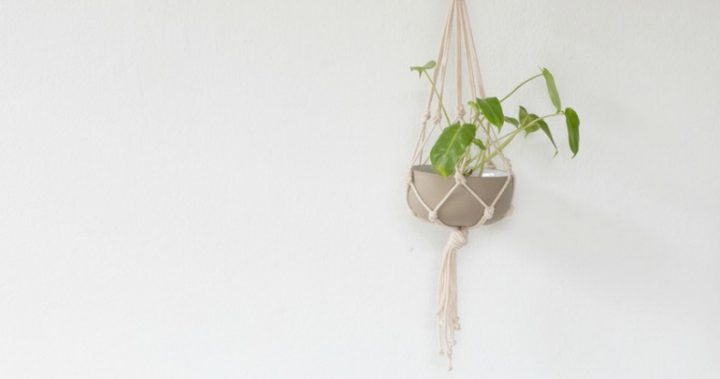 Do you remember Macrame? Yes, the craze that resulted in half of our homes during the '70s being adorned with wall hangings made of twine, not to mention knotted details on our bedspreads, tablecloths, and even our jewellery. Well, this old craft is new again.
Part of the reason is that anything from the '70s is back in fashion at the moment anyway. But another big reason is the surge in popularity of potted plants, such as succulents. What better way to show off a trendy Chain of Hearts or Burro's Tail than in a colourful pot displayed in a Macrame pot holder.
Cotton twine, linen, hemp, jute, leather or yarn; it's your choice on the material. You can stick to the natural tones or you look for the colourful options. Keen to get knotting again? Here's how you can make your very own pot holder. 
Ad. Article continues below.
What you need
1kg ball of Lincraft Spaghetti yarn (135cm)
Hook or ring for hanging
Scissors
Indoor plant and pot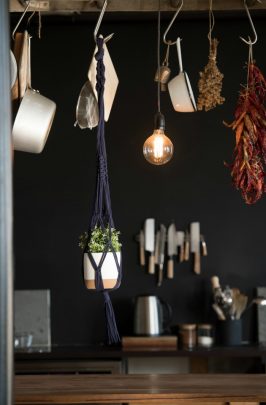 Instructions
Cut the yarn into eight strands 3.9m long.
Ad. Article continues below.
Fold the strands evenly in half and tie a knot at the top over a hook or a ring.
Gather four strands and tie a half square knot with one strand on either side of two middle strands.
Continue tying half square knots for 10cm.
Repeat with each of the four groups.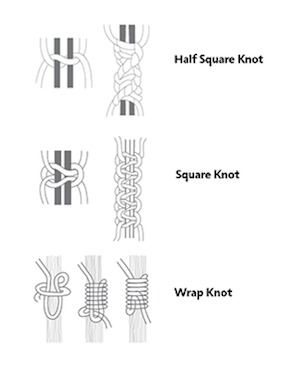 To begin the basket for the pit divide a group of four strands in half and join them with two strands from the group closest to them.
Leave 10cm from the section of square knots and tie the four strands with a square knot.
The basket will be made using alternating square knots.
Ad. Article continues below.
Continue until you have four square knots completed and all strands have been used.
Leave a 6cm gap and repeat previous step. You will now have two rows of four square knots.
Leave a 7cm gap from the bottom of the last group of knots and close off the holder, by tying a knot or creating a wrap knot.
Put your plant in the hold and find a great place to show it off.
Then sit back and enjoy, and see what you can work on next!
Ad. Article continues below.
Once you've had a bit of practice you'll be able to try some more advanced techniques to achieve different looks. You can add extra elements, including beads, for fancy effect.
Here's a few of the current looks and trends using this fibre craft, and they look completely amazing!
Ad. Article continues below.
Ad. Article continues below.
Have you ever done Macrame? Is this something you'll try again?