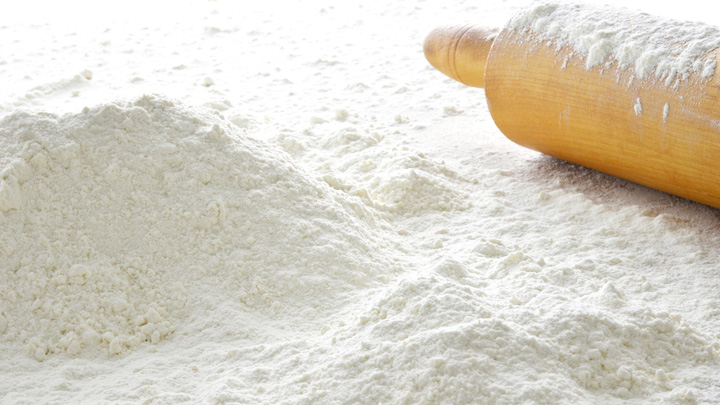 Flour is one of our kitchen staples, and is so handy in baking and for assisting in our cooking. Sometimes, though, it can just sit in a big bag collecting dust, when it could be put to use… and we're not talking about using it in a typical way!
Did you know there are heaps of clever ways to use this grocery must-have around the house? Here's some of the most unique and clever uses we found.
1. Play dough
All grandkids love play dough, but you don't need to spend any money to make it. Simply mix up 1 cup of flour with 1 cup of warm water and a half cup of salt along with a tablespoon of vegetable oil to create your own play dough. A tablespoon of cream of tartar improves the consistency. Add a dash of food colouring to make the dough even more fun.
2. Make opening stubborn jars easier
Are you have trouble opening the lids on some of your plastic containers or jars? When you do get them open, put flour on edges. The lid won't stick again when you put it back on the container.
3. Buff stainless steel
If your stainless steel sink is looking dull, flour can brighten it up. Simply sprinkle flour on the sink when it is dry then buff it with a soft cloth.
4. Polish copper and chrome
Copper and chrome often need a bit of shine. Mix equal amounts of flour, white vinegar and salt to make a paste. Apply it to the copper or chrome, let it dry then buff with with a soft cloth.
5. Ward off ants
Sick of ants and other insects around summer? Detract them by using a line of flour. Sprinkle it in the garden or at points of entry to try to prevent creepy crawlies from getting into your home or kitchen.
6. Clean a deck of cards
As Christmas rolls around, you might be keen to get your playing cards out. If they are getting stuck together, simply toss the cards in a bag with a half cup of flour to soak up any finger grease. They will be easier to separate for your next game.
7. DIY glue
Create your own glue using flour, sugar, white vinegar and water. You can use this glue for paper mache and more!
8. DIY laundry starch
Give your white laundry a clean and crisp look by making your own starch – mix 2 tablespoons of flour into a cup of cold water, then add this mix into a cup of boiling water and whisk until it becomes thick.
9. DIY dry shampoo
Dry shampoo can be a godsend when you don't have time to wash your hair. All you need to do is sprinkle flour on the roots your hair then brush it away with your hair brush.
10. Ripen avocados
Avocados are often sold rock hard and require a few days of waiting before they are soft enough to eat. To quicken the process, place the avocado in a paper bag filled with flour. Once the avocado is in place, fill the bag with more flour until the avocado is covered completely. Roll down the edges of the bag so that it is sealed and keep it in a cool, dry place overnight.
11. Remove facial hair remover
Do you have some hairs on your face that seem to have popped up over night? Mix one egg white with 1 tablespoon of sugar and 2 teaspoons of flour until it forms a paste. Spread on area of the face you'd like to remove hair, wait until it dries, and then peel it off.
12. Stop a grease fire
House fires can often start due to a grease fire on the stove. To prevent a grease fire from spreading and becoming more serious, turn off the stove and pour flour on the fire if you don't have a fire blanket handy.
Share your thoughts and other tips below.
Comments