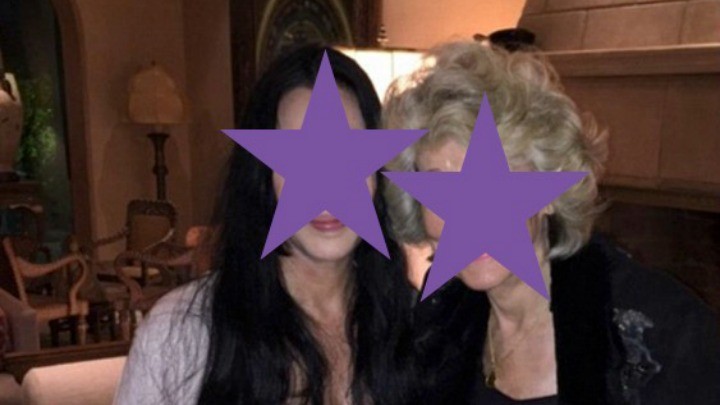 Cher and her mother have shown that ageless beauty runs in their DNA!
The soon-to-be 70-year-old pop star shared a photo of herself and her soon-to-be 90-year-old mother on twitter on Sunday.
The sweet photo shows a wonderful bond between mother and daughter, as well as the crazy good genetics they share!
"This is what 70 & 90 looks like in my family… Mum has NO MAKE UP ON," she writes as the caption.
It is almost shocking that her mother, Georgia Holt, can still rock a whispy, blonde hair style and no make up at her age, you can barely even see any wrinkles!
Mrs Holt is wearing a gorgeous black dress with cropped jacket and her equally gorgeous daughter is rocking a low-cut white top and cardigan.
Some of her followers suggested their youthful skin was too good to be true, and argued that the famous celebrity may have turned to photoshop, as many celebrities do, for a little help.
Cher quickly shut them down tweeting that she doesn't even know how to use software to alter photos.
Also did NOTHING 2PICS.
Would have,but can't access anything😂👻would have taken a few of moms little wrinkles😂
She thinks it's Magic😂😭

— Cher (@cher) March 14, 2016
Cher and her mother have a special bond, she paid tribute to her in her 2013 documentary, Dear Mom, Love Cher. A film which goes into detail about her mum's childhood, marriages, singing and acting career and support of her daughter.
Cher released a statement to EW.com during the airing of her documentary saying, "my sister and I are prod of our mum and we want to share her with the world. My mum is exactly like Rocky. She never gives up!"
See the tweet everyone is talking about:
This is what 70 & 90 looks like in my family…. Mom has NO MAKE UP ON pic.twitter.com/KnegHdbzMb

— Cher (@cher) March 14, 2016
Do you love Cher?
Comments