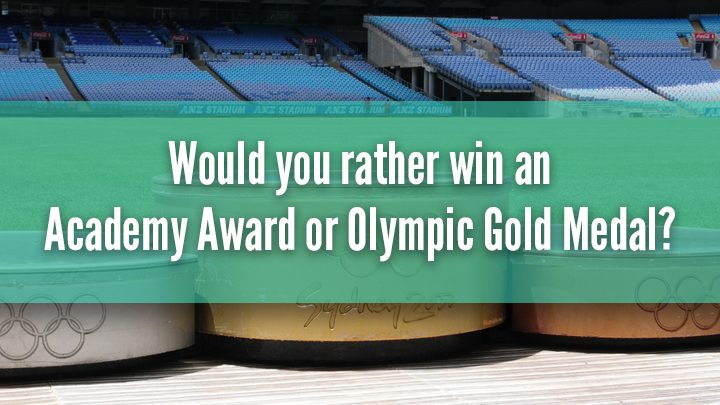 The highest achievement anyone can strive to achieve is that of winning a world recognised title. Two well-established ones are those of winning an Academy Award or an Olympic gold medal.
If you could win an Academy Award, you'd be in the same league as Marlon Brando, Sir Ben Kingsley, Bette Davis, Susan Sarandon, Meryl Streep and Dame Helen Mirren. If you nominate to win an Olympic gold medal, you'd be rubbing shoulders with Murray Rose, Dean Lukin and Betty Cuthbert.
The fame, the fortune and the critical acclaim is at a similar magnitude — no matter which one you win. In the case of an Academy Award — all your interviews will have you introduced as Academy Award winner (your name), whereas as a medallist, you'll be introduced as Olympic gold medal winner (your name).
Those who are driven by the arts are more inclined to say they'd prefer the Academy Award, whereas those that love sports or challenges will nominate the winning of the Olympic gold.
Which one would you rather win, and what would your winning speech be like?
Comments