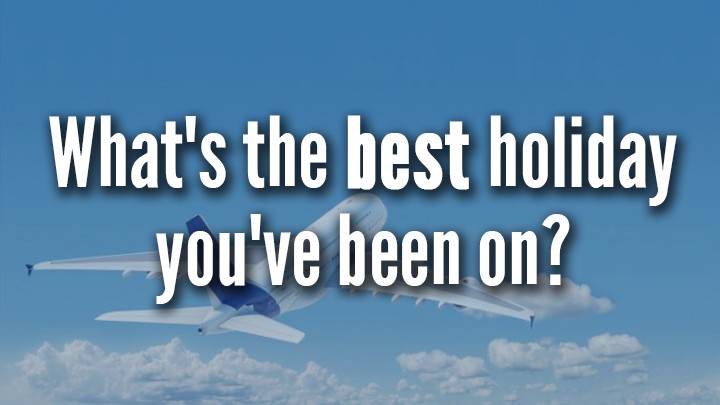 Just thinking about your best holiday experience can bring back some great memories. Whether it was a local trip or a big overseas adventure, we all have that one holiday we love to remember. What was the best holiday you've been on? Why was it so great?
We asked our community to share some of the best travel stories and here is what they said:
Noela explained, "my best holiday was a cruise to New Zealand. 2 weeks of being totally spoilt, no packing and unpacking every day. Just move into your cabin, unpack, then everything is done by the house staff. Fantastic fun for the kidlets, in the (usually 3) age group activity centres, adults have so many activities for day and night, as well as, fantastic meals. On port calls, lots of off ship activities, if you want. Or you can just relax and unwind, chill out in a deck chair, or similar".
Another community member, Susan, shared her travel experiences and it goes to show you don't have to travel far to have the best time! She said "out back Australia in our Toyota 80 series. It was the best three months ever! And I have travelled the world.many times".
Finally, sometimes your best holiday doesn't need to be completely planned out. Judy explain that her best holiday was a trip to Japan and they didn't even use a tour company. "We got the lonely planet guide, worked out what we wanted to see and do. We used the trains, subway and the odd bus. Had nearly 2 weeks there and stayed in a business mans hotel chain that put on a breakfast every morning. Bonus was that they also had a laundry with coin operated washers and dryers. Tours companies did not go to the places we wanted to see or do".
Top 10 international destinations for Australian travellers in 2015:
Bali
New York
Singapore
Phuket
London
Honolulu
Bangkok
Hong Kong
Tokyo
Las Vegas
Tell us about your best holiday in the comments below! We'd love to hear about it.
Comments