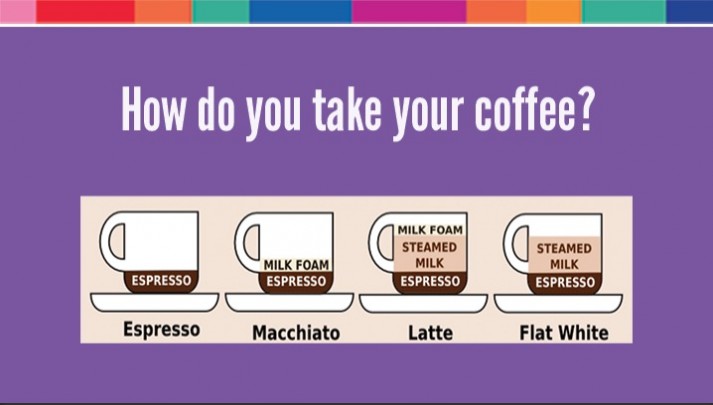 Ever found yourself a little baffled by the types of coffee on offer in a fancy or overseas coffee shop?  What's your regular order?
Americano: Also known as "Lungo" or "Long Black" and made by diluting 1-2 shots of espresso with hot water in order to approximate the texture, flavor and body of an American-style drip coffee. Said to have been originally devised as a sort of insult to Americans who wanted their Italian espresso diluted.
Babycino: A cappuccino styled drink served in an up-market café typically for children. It consists of warm milk in a small cup and topped with milk froth and chocolate powder. No espresso coffee essence is added.
Caffe' Freddo: Chilled, sweetened espresso served in a tall glass, often on ice.
Caffe Latte or "Latte": A 'premium milk coffee experience'. Freshly steamed milk without foam served in a tall glass with a shot of espresso coffee.
Caffe Mocha: A combination of chocolate syrup and a shot of espresso, topped with steamed milk and a layer of micro-foam. Finished with a sprinkled of chocolate.
Cappuccino Chiaro: (AKA Wet or Light cappuccino): Cappuccino prepared with more milk than usual.
Cappuccino: "Cap":  A 'traditional morning heart starter'. Steamed foamed velvety milk poured over one shot (1) of coffee oil extract made from 12gm of freshly ground beans producing 38ml of essence. Finished by topping with foam and a sprinkle of chocolate powder. Served in a pre heated vitrified ceramic cup.
Con panna: Like the beverage "macchiato", but whipped cream is substituted for steamed milk.
Cortado: means "cut" in Spanish so the double shot espresso served in a demetesse glass supported with a metal handle is "cut" with an equal part of hot milk, making it in between the size and strength of a macchiato and a cappuccino. It is popular in Spain and Portugal, as well as throughout Latin America and Cuba, where it is drunk in the afternoon. Variations include more froth on top than a traditional cortado and occasionally with different names such as Piccolo or Gibraltar. Thanks to Ryan Cerbusfor the entry.
Corretto: Espresso "corrected" with a touch of grappa, cognac, sambuca, or other spirit.
Doppio: Italian term for double. Double Espresso or twice the amount of coffee and twice the amount of water. Basically it describes two shots of espresso in one demitasse container.
Espresso con Panna: A variation of the macchiato by substituting a dollop of whipped cream for the milk froth. Basically a Starbucks invention. Means in Italian "espresso with cream".
Espresso Lungo: American term where a shot is extracted longer for a bit of extra espresso. Tends to maximizes the caffeine but will mostly produce a more bitter cup.
Espresso Romano: Espresso served with a lemon peel on the side. Whilst not a typical accompaniment in Italy it is commonly served with the espresso beverage in America.
Flat White: "White Coffee" – 'uncompromising taste'.Steamed microfroam milk poured through and under the espresso crème produced from one shot (1) of coffee extract made on 12gm of freshly ground coffee producing 38ml of essence. Served in a pre heated vitrified ceramic cup. A common espresso coffee order in Australia/New Zealand. Great for latte art!
Irish Coffee: Coffee mixed with a dash of Irish whiskey and served with cream on top.
Latte Macchiato: Steamed milk served in a tall glass rather than a cup that is "stained" by a shot of espresso coffee.
Long Black: Often called the "American". It is the 'benchmark coffee without milk'. It is pure coffee made from one & one half shots of coffee extract made on 16gm of fresh ground beans producing 50ml of essence blended with steamed water. Served in a pre heated vitrified ceramic cup with the essence floated over the top of a cup filled with hot/boiling water. It is a standard espresso (Short Black) but lengthened by the addition of hot/boiling water.
Comments