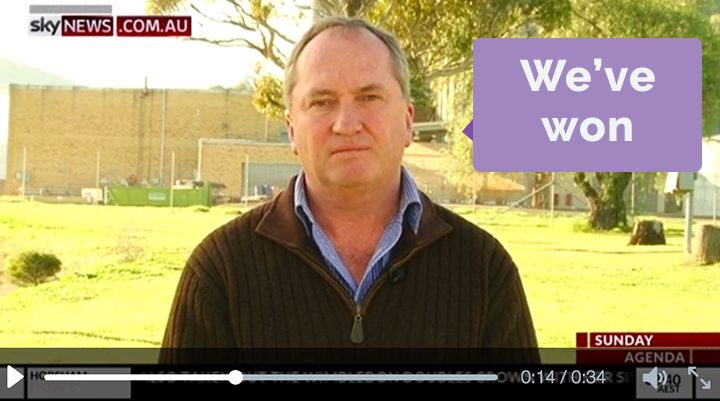 Barnaby Joyce has just finished telling Sky News that the Coalition has won the election. As the vote continues, and the LNP looks likely to take 76 or 77 of the seats, the nation has remained on tenterhooks wondering. In his appearance, Mr Joyce has also taken a shot at Anthony Albanese urging him to nudge Bill Shorten out of the way with a smirk on his face.
"I don't want to start pre-empting things or hypothesising, I'm very certain that we were going to win in Flynn because of the postals, because of the trend in the postals and the absentees and the way they are going – and we will also win in Capricornia," said Mr Joyce live on air.
.@Barnaby_Joyce: says 'we have won this election' suggests Nationals could gain extra cabinet member #ausvotes https://t.co/oCx9zKrkjP

— Sky News Australia (@SkyNewsAust) July 9, 2016
Joyce also had some fun advice for Anthony Albanese. He thinks Albo needs to game up and run for the leadership… no doubt trying to incite challenge within the Labor ranks.
"Listen to Paul Keating… You've gotta have the ticket old trout. If you're gonna have a run for it Albo… Now's the time to do it old boy! because otherwise you're out of the game. So go for it Albo!
.@Barnaby_Joyce has some very straightforward advice for @alboMP https://t.co/peb3DXuQeq

— Sky News Australia (@SkyNewsAust) July 9, 2016
Do you think it's a done deal… Are you happy with a coalition win?
Comments