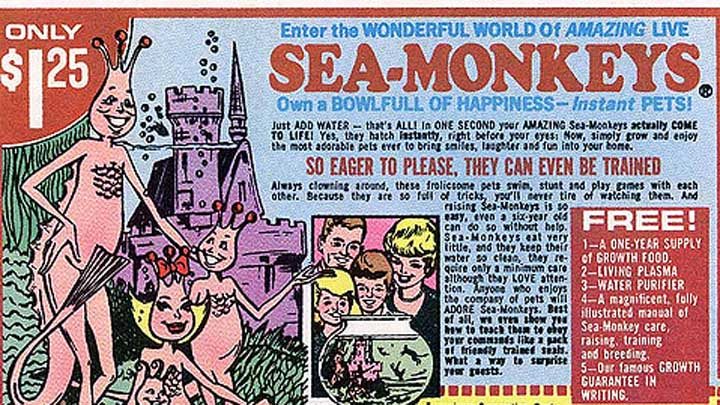 In a time where ant farms were popular, it seemed inevitable that Sea-Monkeys would be popular… and they were. Invented in 1957 by Harold von Braunhut, the mail-order marketer worked with marine biologist Dr Anthony D'Agostino to develop the proper mix of nutrients and chemicals in dry form that could be added to plain tap water to create a purified habitat for tiny shrimp to survive.
In 1962, Sea-Monkeys were sold everywhere — named that way because the tails of the shrimp were similar to monkeys. It wasn't long before these little critters had their own comics and a TV show, as well as multiple sets to 'play' in.
"People say, 'What gave you the idea for Sea-Monkeys?'" von Braunhut, who held about 200 patents, said in an interview with the Baltimore Sun in 1997. "I thought, if you could take a package of powder and put it in water and see it come to life. What could be more remarkable than that? … I was always interested in wildlife, and I was looking for something that would interest other people in it."
If you had Sea-Monkeys knows that you had to add the nutrient packet to prep your tap water, wait 24 hours, and then add the packet of eggs. But according to von Braunhut's patent, there are eggs in the nutrient packet, too — and a dye from the second packet of eggs makes those first hatchlings easier to see.
Interestingly, over 30 years after they first came on the market, Sea-Monkeys went into space. On October 29, 1998, the Space Shuttle Discovery carried 400 million Sea-Monkey eggs. The eggs spent nine days in space and, when they were hatched eight weeks later, the creatures showed no ill effects from their journey.
Take a look at some of the videos and photos of Sea-Monkeys… What memories do these bring back?
Comments