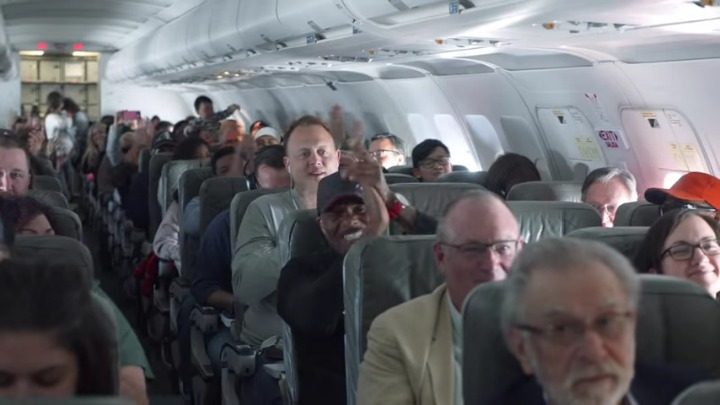 If you've ever flown on a plane with a bawling baby, you'll know how annoying it can be.
While no one could really blame a child for letting loose and giving their lungs a mile-high work out, it is one of those things that seems to irk a lot of passengers.
And if you're a mother who's had to fly with a crying baby before, you'll understand how uncomfortable and even embarrassing it is to know that everyone around you is wishing your little one would just be quiet.
Well airline JetBlue has come up with a way to take the negative out of this experience and turn it into something more positive.
As part of its Mother's Day promotion, the airline decided to give passengers on a flight 25 per cent off their next ticket every time a baby cried on board.
The flight had four babies and their mothers travelling that day and took the chance to help everyone have a more relaxing and enjoyable experience.
In a short video, the nervous mothers are seen boarding the plane talking about how stressful it can be to fly with a baby.
"It is more stressful flying with a baby," one woman says. "There's just a lot more to consider … I don't want to be the lady with the baby who's screaming for four hours.
"People definitely give you some dirty looks."
Passengers on the plane are seen with disappointed looks on their faces as they realise they are about to be seated next to or near a baby.
Once the plane as taken off though, the air hostess makes the special announcement over the PA system.
She tells passengers that they will receive the huge 25 per cent discount with every wail, meaning that with four babies on board they could receive a free trip next time they fly.
The passengers' mood immediately lifts as people start to see the babies in a much more positive light and even greeted their crying with cheers and applause.
"We want to take a moment to acknowledge mums everywhere and encourage everyone to support them, especially while travelling with their young ones and doing their best to keep everyone on the flight happy," a JetBlue spokesperson said.
The lucky passengers ended up getting a free flight, after the babies cried four times.
"Here's one tip we've learned in the airline biz: Babies are a lot more attuned to the emotions of the people around them," JetBlue said.
"So nothing will make a flight more relaxing for you and those anxious parents on-board than a smile and some understanding. So go ahead, and smile next time you see that baby on-board. Your mother would be so proud of you."
Have you ever been annoyed by a crying baby on a plane? Do you do your best to be understanding when it happens?
Comments