Adelaide Crows take to the field for emotional game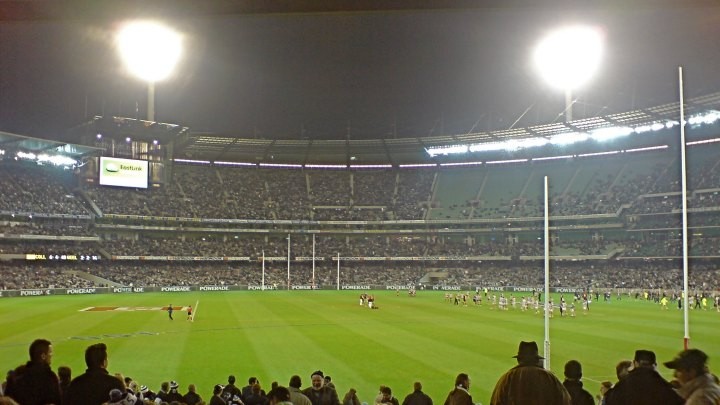 It's difficult to imagine how the players were feeling as the Adelaide Crows took to the field for the fist time last night since their coach Phil Walsh was killed last week.
Prior to the match against the West Coast Eagles in Subiaco, Perth, the team observed a minute's silence, with many players overcome with emotion.
Mr Walsh's name was illuminated on the scoreboard, and the crowd of close to 40,000 held banners and placards in the crowd.
Ad. Article continues below.
Wiping tears from their eyes, they embarked on a valiant effort, with every goal dedicated to their former coach. Eddie Betts kissed his black armband following an impressive goal.
The Crows played a spirited game but were beaten by the eagles by 56 points.
Crows interim coach Scott Camporeale, said he was proud of the team.
"The guys were in a really good spirit and I couldn't have been any prouder of them about their preparation and the way they attacked the game," he told the ABC.
Ad. Article continues below.
"There were a lot of firsts this week: the first pre-match, the first training session … for the players and they have been through a lot. This footy club has been through a lot this week.
"You can ask the players but I think they were just keen to get out there and just play again and get that one out of the way again, I guess, and move forward."
At the full-time siren, players from both teams linked arms and formed a circle, taking a moment to show solidarity. This echoed the gesture made at last week's Hawthorn-Collingwood clash, played just days after the tragedy.
A number of Crows players succumbed to their emotions during the tribute; the team was cheered off in a massive show of support from the crowd.
Ad. Article continues below.
A private funeral was held for Mr Walsh in Adelaide on Friday, while a public memorial service will take place next Wednesday at Adelaide Oval.
Can you imagine how much guts it must have taken for the Crows to get out there and play last night? Do you think Phil Walsh would be proud?