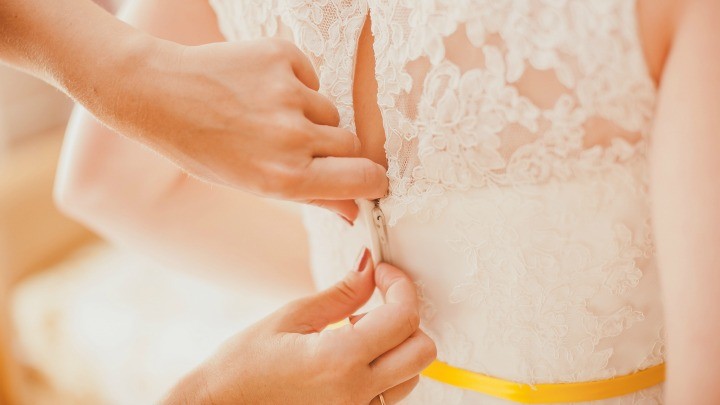 Angel Gowns for Australian Angel Babies takes preloved wedding dresses, and turns them into funeral clothing for premature, stillborn or miscarried babies. This non-profit group helps acknowledge each life, whereas in the past the loss of a small baby was not always discussed.
61-year-old Jan has volunteered with Angel Gowns for nearly one year. Her main tasks involve deconstructing donated wedding dresses, and sewing them into funeral garments which can fit premature babies. Some babies are just 16 weeks into gestation.
"Often it's hard for families to buy tiny clothing, so just dressing their baby can help with the grieving process", says Jan. "Being able to cuddle, clothe and even photograph the baby helps parents acknowledge their loss".
In addition to funeral dresses, Angel Gowns makes bonnets, booties and blankets. Its volunteers donate their time to create these items, which are then distributed via hospitals and funeral homes. Jan says most volunteers become involved with Angel Gowns after losing a baby, or knowing someone who has.
Jan describes her volunteer experiences as sometimes poignant, but always rewarding. "It is good to help people during their time of need. One simple dress can help immensely with the grieving process". Indeed, in the past, lost babies were not always discussed.
"Hospitals use to take deceased babies away, and mothers were quickly encouraged to move on. The topic was not normally talked about when my generation was child-rearing", said Jan. "Although people never forget their loss, Angel Gowns helps families grieve, heal and acknowledges the existence of each baby".
There are a variety of ways for people to get involved with Angel Gowns for Australian Angel Babies. To contact the group visit www.angelgowns.org.au and fill in the appropriate contact forms. Alternatively, monetary donations can be made via the Facebook group HERE.
Local area representatives for Angel Babies can collect your preloved wedding dresses, or you can volunteer to deconstruct other people's donated gowns. Every person who generously donates their own wedding dress, will receive a memory card with a swatch of their original gown, along with photos of the new baby clothing.
Angel Babies also accepts donated postage bags, sewing machines and other practical implements to help create each funeral gown. "There is plenty that new volunteers can do", says Jan. "You don't necessarily need to have sewing skills".
"Donating your wedding dress is a big decision", adds Jan. "For most of us though, our wedding dress just sits in a cupboard and gathers dust. So why not send the gown somewhere where it's going to help others, and really be appreciated by families in need?"
Would you donate your wedding dress for this worthy cause? Have you been affected by the loss of a baby, or has somebody you know?
Comments