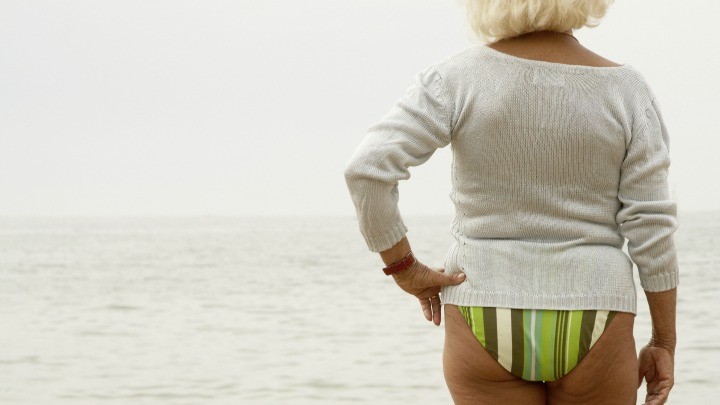 As the Easter break approaches, many Australians will be planning some fun in the sun. However, for over 60's who are uncomfortable with their body, beach holidays can be fraught with anxiety.
Starts At 60 has noticed that many readers feel worried about the idea of wearing swimwear. In fact, we've received a lot of comments about the topic and would like to explore this more today.
"I have been sitting on the beach (alone before,) until someone reminded me that the beach is for everyone", one SASer wrote. "I always panic when it comes time to go out", she added.
Whilst another SASer commented that even older, plus-size bikini models do not "look like me". She suggested "a large sack" would be her preferred beach-wear.
"All (those models) have lovely, well-proportioned figures so of course they look nice in bathers. It's quite a different matter for many of us when we try to find a nice fit", the SASer explained.
Another SASer even detailed the lengths she goes to, hiding her body. "I cover the top, then cover the tummy, but the legs are cut too high and the suit gapes", she said.
These variety of concerns definitely make enjoying the beach difficult, because swimwear draws attention to our personal insecurities.
Fortunately, psychologists like Dr Emily Roberts have recommended some simple confidence-boosting tips. Firstly, embrace the notion that 'size doesn't matter'.
"You are the only one looking at your perceived flaws", Dr Roberts said. "Other people are noticing how much fun you are having, your attitude, and your personality".
She also recommends turning your attitude into gratitude. "Instead of hating your legs, be thankful you actually have strong legs to support you, because some people don't", Dr Roberts explained.
"Quit comparing. No two bodies are the same, we are all unique", Dr Roberts said. "Comparing your body with others is a lost cause because everyone is different".
Dr Roberts also agreed that 'the beach is a place for everyone'. "Why are you here? Sounds like a pretty deep question for (swimwear) but the truth is, you are more than your body", she said.
As one SASer piped up, "Lovely ladies, go buy a swimsuit you like. To hell with anyone else. You like it, you feel good, go wear it!!!"
Do you feel confident at the beach, or do you avoid swimwear? What tips would you offer someone who feels insecure about their body?
Comments