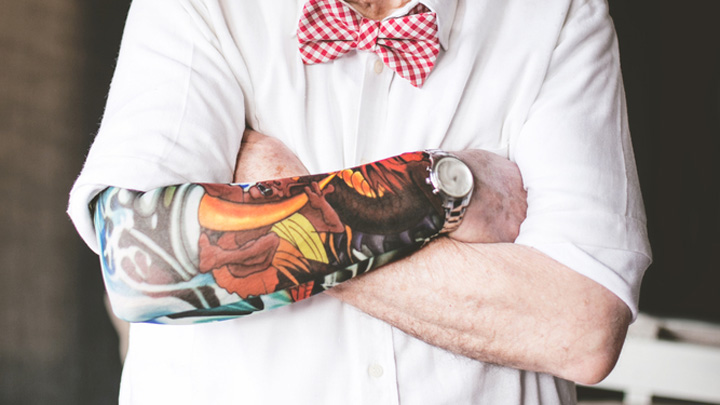 Lyle Tuttle has been tattooing for over 60 years but he has some advice for anyone who wants to get a tattoo: don't get one!
The 84-year-old US tattoo artist was once featured on the cover of Rolling Stone magazine and had famous musicians as clients at his San Francisco tattoo shop.
Janis Joplin was one of those stars, and he said she asked for two tattoos; a bracelet design on her wrist and a tiny heart on her breast.
"I got the bracelet on, she went downstairs and had a couple of drinks, and then I put the little one on.
"I must've put a few hundred of those on after she passed on, people got them in memory of Janis", he told the ABC.
He talked of how tattoos and society's views have changed over the years, particularly during the women's liberation movement in America.
Before that, the industry had been associated with drunken sailors or ex-prisoners.
"All of a sudden it became a kinder, softer, gentler form of art," he says.
"With women's liberation, they were getting them on their breasts, inside their bikini line.
"I've seen a lot of pubic hair in my time".
But on the subject of whether he thinks people should get tattoos, he said "now it's a trend and a fad, and trends and fads end".
"Don't get one, and stay unique," was Lyle's advice, and also said he was against tattooing face, neck and hand tattoos.
"Tattooing used to be a compulsion. In my era, I just had to have a tattoo. It just seemed like a step in growing up," he says.
Some may disagree with his thoughts but there's no doubt that there's a growing industry for tattoo removal – around 10 per cent of tattoos are removed.
Tell us, do you think this is good advice or should everyone do what they want with their bodies? Do you love or hate ink?
Comments