15 things you need to try using your old toothbrush for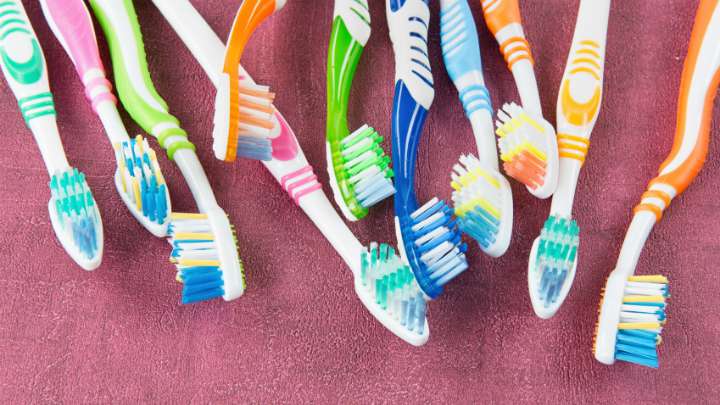 Next time you change toothbrushes, you might want to reconsider throwing out your old toothbrush.
It turns out your old toothbrush might be more valuable than you first thought.
So just what can you use your old toothbrush for?
Apparently everything from a hair brush to a scrubbing brush.
Here are 15 ways you can use your old toothbrush.
Ad. Article continues below.
1. Remove scuff marks from shoes 
Are your good going-out shoes looking a little marked and worse for wear? Well, with your trusty old toothbrush and some toothpaste you can get them back in order. Just scrub the scuff marks with your toothbrush and toothpaste until they're gone!
2. Brush your eyebrows
If your eyebrows are looking a little unruly, don't panic. Instead of buying an eyebrow brush, just grab your old toothbrush and use it instead. It'll have the same effect.
3. Exfoliate your lips
Ad. Article continues below.
Lips feeling a bit dry? You can use your old toothbrush to exfoliate them. Simply apply a layer of moisturiser to your lips and brush your lips with a soft-bristled toothbrush in a gentle, circular motion to remove the dead skin.
4. Remove splinters
There's nothing worse than digging around trying to get a splinter out of your finger or foot with tweezers or a safety pin. Why not try using your old toothbrush instead? Make a paste of water and baking soda and apply it to the splinter. After a few minutes, gently brush the splinter out of your skin using your toothbrush.
5. Remove silk from your corn
When cooking corn from fresh cobs, removing the silk can be a fiddly task. But it doesn't have to be. All you need to do is grab your old toothbrush and rub down the cob with it before cooking.
Ad. Article continues below.
Read more: 17 brilliant uses for toothpaste
6. Tame your flyaway hairs
Your old toothbrush can be a very handy replacement for your hair brush when it comes to flyaway hairs. Just apply a little bit of hairspray to the bristles and brush down your flyaway hairs.
7. Clean out your hairbrush/comb
If you've got long or thick hair, you'll appreciate the need to constantly clean hair out of your hairbrushes and combs. Don't ruin the bristles of your brushes and combs anymore trying to get the hair out. Instead, grab your old toothbrush and lift the hair out with the bristles of the toothbrush.
Ad. Article continues below.
8. Remove dirt from under your fingernails
The bristles of your old toothbrush are also handy for getting dirt out from under your nails. Add a little soap and water to your toothbrush and scrub away. It'll feel just like a manicure!
9. Scrub crayon marks off your walls
Have your grandkids been practising their art on your walls? With some shaving cream and your old toothbrush you'll be able to scrub the crayon off and get your walls looking as good as new.
Read more: How to keep your toothbrush clean
Ad. Article continues below.
10. Clean grout on tiled floors
Cleaning the grout between your bathroom and kitchen tiles can be a painful job. It requires a small brush – and your toothbrush is perfect for the job. Make up a mix of borax, baking soda and water and scrub it on your grout with an old toothbrush to clear out all the grime.
11. Give your jewellery a clean and polish
Getting your jewellery clean and gleaming can be a real challenge. You can use a slightly damp toothbrush to clean your delicate jewellery such as rings and bracelets.
12. Get rid of the grime around taps
Ad. Article continues below.
There's just something about the taps in your bathroom, laundry and kitchen that attracts grime. With a conventional scrubbing brush it can be hard to remove, but with an old toothbrush it's a breeze. Just wet the area around the tap with vinegar and give it a good scrub with the toothbrush.
13. Tidy up your keyboard
Are you prone to eating at your computer? Are you eating while you're reading this? Then chances are your keyboard could be full of crumbs. To get them out, just flicks them out with an old toothbrush. Your keyboard will feel less sticky and grimy in an instant.
14. Brush down your cheese grater
Cleaning your cheese grater can be frustrating at the best of times. Why not try brushing your grater with an old toothbrush before washing it? It'll make it easier to wash and prevent your dishwasher or drain from clogging up with food particles.
Ad. Article continues below.
15. Apply hair dye
Applying hair dye can be a messy jobs if you're left with just a pair of gloves. But it doesn't need to be. You can apply hair dye with an old toothbrush quite effectively and with less mess!
Don't forget to clean your old toothbrush before using it for any of these tips. Simply soak it in some bi-carb soda or disinfectant and leave it to dry.
Have you found a use for your old toothbrush? Tell us about it in the comments below.