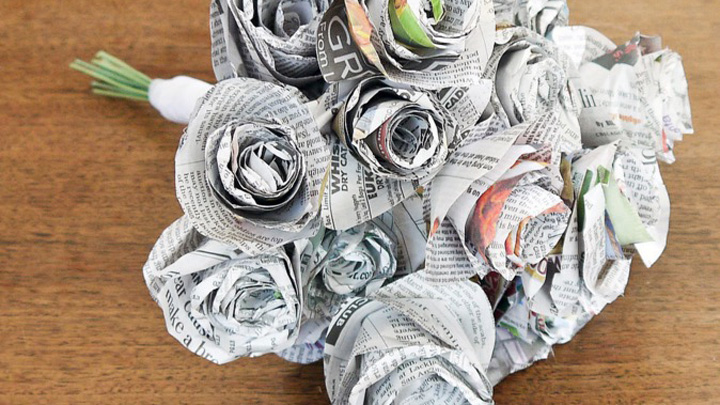 It's a habit many of us have – we save old newspapers or magazines with the intention of pulling them out at a later date and reading them all over again.
The thing is, we rarely do this and let the piles of paper gather dust.
So here's how to get those newspapers and magazines out of storage and put them to good use.
1. Cleaning windows
Using newspaper to clean windows works better than a cloth for preventing streaks. For even better results, use a vinegar-and-water solution instead of a chemical cleaner.
2. Cat litter box liners
Place sheets of paper in the bottom of your cat's box, under the litter. You'll save on litter, and any odours and wetness will be absorbed.
3. Barbecue cleaner
Turn off the barbecue and allow it to cool. Soak the newspaper in water, lay the sheets over the warm BBQ, close the lid and leave for approximately an hour. Then simply remove the paper and wipe the grill clean.
4. Weed killer
If you have weeds in your garden, cover the flower beds with newspaper and soak them with water. Then cover the paper with compost or mulch. Eventually the paper will smother the weeds, and the organic matter will help your garden flourish.
5. Fire starter
Don't have any firestarters around? Use crumpled up bits of old newspaper to start a fire.
6. Ripen tomatoes
Wrap green tomatoes in sheets of newspaper, place in a box and put a lid on top – they will ripen up quickly.
7. Shoe deodoriser
Crumple up balls of newspaper and stuff them into smelly shoes. Leave overnight and discard – and any odours will have disappeared.
8. Gift wrapping
Wrap birthday gifts with old newspaper. It can look quite nice, especially if paired with a colourful ribbon or card.
9. Clear up broken glass
First, pick up and dispose of the larger pieces. Then carefully blot the surrounding area with a few sheets of wet newspaper – the shards of glass will stick to the damp wad of paper.
10. Unscrew a broken light bulb
Use a wad of newspaper to unscrew a hot light bulb and prevent burning your fingers.
11. Knee pad
Use old newspaper as a knee pad when gardening or scrubbing floors.
12. Hanging triangle banner

via Design Shimmer
13. Placemat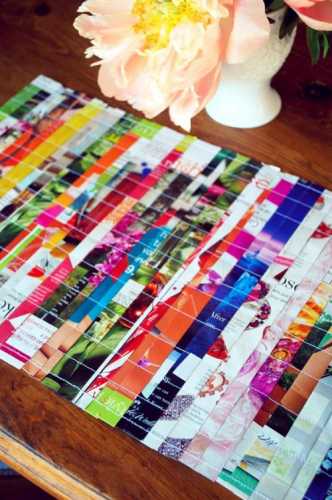 Need a new placemat but want something a little funky? This placemat is easy to make and looks fab.
Tear out interesting/colourful pictures from your old magazines.
Trim each page down so it is neat around the edges, then fold in half, in half again and once more.
Cut strips of paper (around 20 for each place mat)
Take a piece of scotch tape sticky side up and arrange the strips of paper so that the edges are stuck to the tape.
Then, simply sew down the length of each placemat about 12 times, and take the tape off.
Use a few coats of matte or gloss "modpodge", or clear contact paper.
via The Pink Couch
14. Wedding bouquet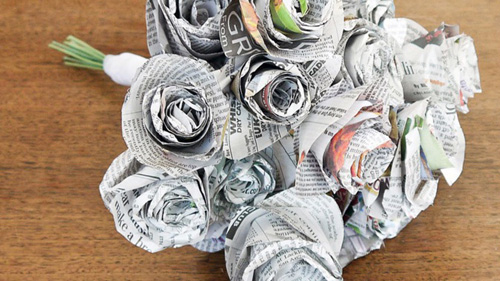 If your daughter or granddaughter needs a bouquet for her wedding day, why not suggest she makes it? This DIY version only costs a few dollars to make.
What you'll need:
Newspapers
Scissors
Hot glue gun
Floral cloth wire
Ribbon
Directions:
Cut a circle from the newspaper around 20cm in circumference. Now cut a spiral into the circle, allowing at least a 2cm border around the cut.
Starting from the outside edge, begin rolling the paper, continuing until you reach the centre.
Place the rolled paper flower flat on your work surface and allow it to unroll a bit. You can even press down on the edges of the paper to create curled petals.
Place a round of hot glue at the base of the flower and press.
To create the stem for the flower, slightly angle the end of a floral cloth wire and secure with a dot of hot glue. Cover the exposed wire with a small piece of torn newspaper.
Continue making flowers until you have a nice bouquet. Bunch them together into an arrangement and then use one of the cloth wires to wrap around the stems, securing the bouquet in place. Trim the ends from the wires using scissors.
Wrap the paper flowers with a length of ribbon and secure with a bit of hot glue.
via Pop Sugar
Comments