Ultimate skin care in your 60s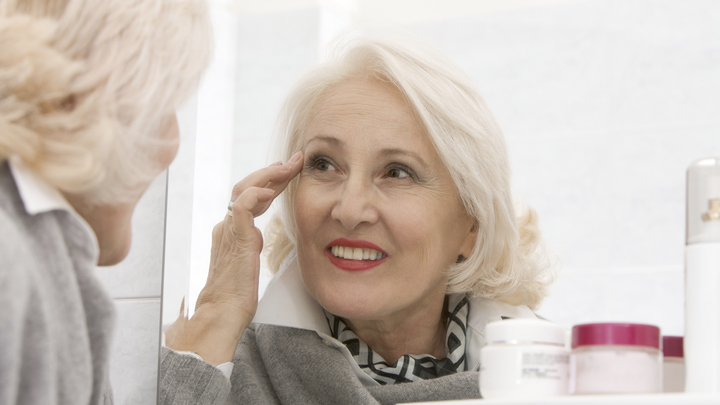 60 is the new 40, and it is perfectly possible and acceptable to be both sexy and gorgeous in your 60s. No one wants to be old and frumpy, when they don't have to be.
Many people in their 60s say that they feel younger than they look and why shouldn't they? Often they are newly retired, freed from the burden of business and have had the kids leave the nest. With more time on their hands to relax and spoil themselves, skin care and rejuvenation often becomes an area of importance. Unfortunately we have not yet discovered the secret to eternal youth and sagging skin is a main area of concern for both men and women in their 60s, however there are many solutions available that don't involve expensive surgery.
The most common signs of ageing in your 60s
Sagging and wrinkles: As your skin ages your body produces less elastin and collagen, which means your skin is more likely to sag under the eyes, along the jaw line, and wrinkle around the eyes, mouth and forehead.
Ad. Article continues below.
Pigmentation and age spots: As you age your skin develops additional pigment (particularly in areas that have been exposed to the sun's harmful UV rays) and these pigment cells tend to cluster forming age spots.
Thinning of the skin: The dermis may become thinner and the epidermis slows its rate of cell production. Together, these changes mean the skin is more likely to crinkle and wrinkle.
The most common skin care procedures in your 60s tend to be a combination of treatments for facial rejuvenation. Effective combination plans often include cosmeceutical skin care products, chemical peels, anti-wrinkle injections, collagen stimulating treatments, laser rejuvenation and skin tightening procedures.  All can be delivered without the need for surgery or a bottomless bank balance.
Treatments to consider in your 60s
Ad. Article continues below.
9-Step Microdermabrasion: A proven treatment for facial and body exfoliation and nourishment. This treatment includes exfoliation, microdermabrasion, peel, nourishment, hydration and protection.
Dermal fillers: Dermal fillers are a fast acting short term solution to the replenishment of facial volume, cheek enhancement and the reduction of age lines. This is a relatively painless injectable treatment with instant results.
Chemical peels: Advanced skin peels are ideal for a variety of skin concerns such as uneven skin texture and tone and pigmentation.
Anti-wrinkle injections: Anti-wrinkle injections work by preventing or reducing muscle movement which causes creasing of the skin (wrinkles). This is a fantastic short term solution for wrinkles and worry lines.
Max RF: Combines fractional radio frequency and dermal stamping to direct energy into the layers of the skin. This treatment can stimulate the production of collagen and elastin and is ideal for generalised skin tightening.
Ad. Article continues below.
Laser rejuvenation for pigmentation: Laser is used to even out skin tone, target freckles, sun and age spots. This is achieved through the use of high grade medical laser equipment, which targets the Melanin in the skin to reduce and lighten pigmentation.
Advanced cosmeceutical skin care products: Prevention is always better than a cure and by using a range of cosmeceutical skin care products that contain active ingredients, dry skin can become moisturised and hydrated. Australian Skin Clinics recommends Skinstitut for all your advanced home care skin product needs.
Some little facts about skin at 60
Did you know that in your 60s your skin cells have 30 per cent less natural moisture, so your skin can be noticeably dryer, thinner and the inconsistent sun protection means age spots can show up all over the place?
Ad. Article continues below.
Did you know that the current generation of 60 year old men and women are looking younger than ever? This is primarily due to a combination of advanced skin care, treatments, good health and well-being.
Expert tip for the future
If you have traditionally used soap and water to cleanse your skin or remove makeup, now is the time to stop. Get started by using a gentle cleanser on your face and neck, followed by a daily moisturiser and SPF broad spectrum 50+ sunscreen. Your home care should then be followed by an advanced skin rejuvenation plan that can include monthly microdermabrasion, anti-wrinkle injectables for lines and wrinkles, and more intense treatments such as, laser for pigmentation and redness and skin tightening procedures with Max RF.
Whether you have just turned 60 or are heading towards 70, it is never too late to start taking an interest in your skin and it is important that when seeking skin recommendations you always seek advice from professionals within the industry. Why grow old gracefully when you can look as young as you feel without the need for surgical enhancement?
Ad. Article continues below.
60 really is the new 40!
How is your skin looking as you age? Have you had any procedures done to make your skin glow in your 60s? Tell us below.