Thyroid issues have been linked to breast cancer – are you at risk?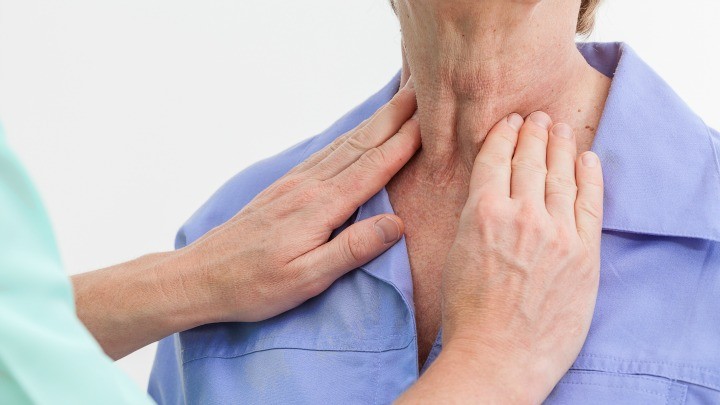 Women with overactive thyroid glands have an 11 per cent higher risk of developing breast cancer, a new study has revealed.
The research also found women with underactive thyroid glands have a six per cent lower risk of developing breast cancer than the general population.
Lead study author Dr Mette Sogaard, of Aarhus University Hospital in Denmark, said: 'High levels of thyroid hormone levels can have estrogen-like effects, which may explain why hyperthyroidism is associated with higher risk of breast cancer.'
Around 11 per cent of women develop a thyroid condition before they're 60, and is diagnosed due to the thyroid gland either producing too much or too little of the hormone thyroxine, according to the Thyroid Organisation.
Hypothyroidism in particular can speed up metabolism, resulting in sudden weight loss, irregular heartbeat, nervousness and more.
Ad. Article continues below.
A team of Danish scientists studied nationwide registries to identify women with hypothyroidism and hyperthyroidism between 1978 and 2013, then analysed the women's risk of breast cancer, comparing it with the estimated risk in the general population.
In total, they compiled data on more than four million women and identified 61,837 women had hypothyroidism, and 80,343 had hyperthyroidism.
The findings were stark in contrast: the scientists found women with overactive thyroids were far more likely to develop breast cancer than the general population.
Dr Sogaard said: 'Our findings emphasise the importance of raising awareness of breast cancer in women with hyperthyroidism, and further our understanding of this potential risk'.
Are you suffering from a thyroid condition? Could this information help someone you know? Share your thoughts below: