How to find the perfect bra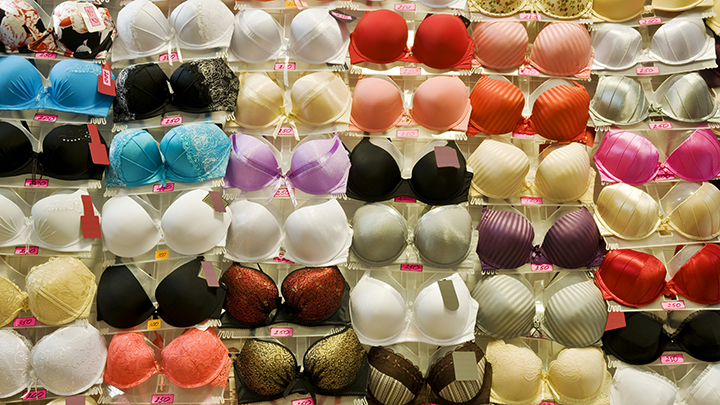 Have you been wearing the same bra size or bra for years? Do you rarely go out searching for a new shape or size in bra?
A common mistake made by women is to stick to what they know best. Since bras are worn everyday, comfort, fit and size is imperative.
Don't be dismissive of the importance of wearing the right bra. A preliminary study was undertaken by two hospitals and a BUPA consultant surgeon and it showed that 70 per cent of women are wearing the wrong bra!
Take a look below at the tips for finding the right bra for you…
Ad. Article continues below.
1. Go to a professional fitter (it's free!)
Find yourself professional fitter – nearly every department store has one. They are discreet and can quickly measure your bust. Who knows, you could have been wearing the wrong bra size for years! Keep in mind, though, that bras are like shoes: no two will fit the same despite the size they claim to be!
2. Get your measurements
Measurements determine your bra and if you incorrectly measure your own size, you could end up with back or shoulder issues. Bra sizes are calculated based on two measurements: your underbust and bust. It is the combination of these sizes that determines the correct size for your bra.
Ad. Article continues below.
3. Find a good retailer
Dress for comfort and don't always be attracted to sale prices, and make sure that the bra is great quality. Paying a higher price now could save you in the long run…and we're not talking about money-wise! Find a quality lingerie or underwear retailer – they'll have professional fitters in the store who will be able to assist.
4. Get measured twice a year
Ad. Article continues below.
Make sure you get messaged at least twice a year. Breasts can fluctuate; especially if you have lost weight.
5. Make sure it fits
The mistake many of us make is settling for a bra that's close enough to perfect, rather than holding out for one that is. How to know if you've got an ideal model? The most important consideration is comfort. Here's what to check for next:
While putting on the bra, bend over and allow your breasts to fall naturally into the cups. Stand slowly and adjust the bra: Put a hand to each breast and raise the nipple so that it's at the centre of the cup. The centre of the bra should lie flat against the breastbone. Be sure there is no gap.
Ad. Article continues below.
Check that the bra cups are smooth, with no wrinkles.
Finally, turn to the side and look in a mirror to see whether the back of the bra hikes up. If it does, then the bra doesn't fit correctly. The back of the bra should rest comfortably against the middle of your back.
The band should be snug on the loosest hook so that when the band stretches, you can continue to tighten it and get more life out of your bra.
6. Rotate your bras
Try to rotate your bras every day. By doing so, it extends the life and quality of your bras.
Ad. Article continues below.
7. Focus on fit not fashion
Be aware the bra is fashionable for a reason and the bra may not be designed for comfort. You can be attracted to pretty colours and materials, however the more fashionable the bra appears, the less comfortable it can be. 
Have a look below at 10 best bras for your shape: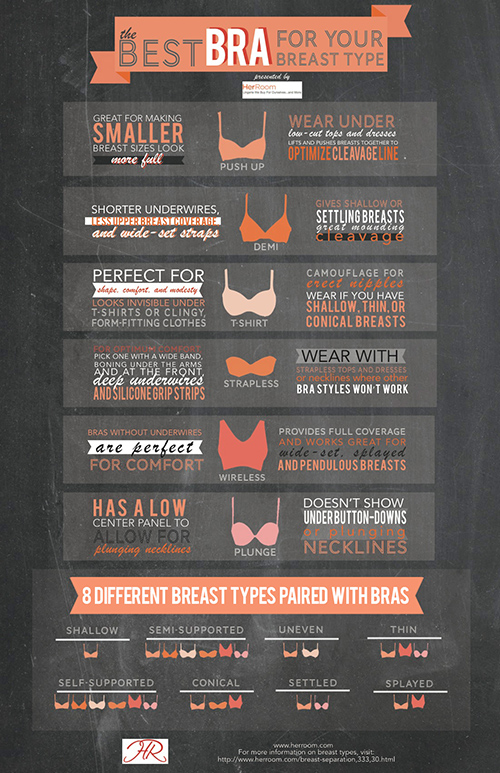 Source: Shape.com
Is it hard for a bra to fit your shape? How do you find the right bra for you? Share your story below!