The very best ways to stop dandruff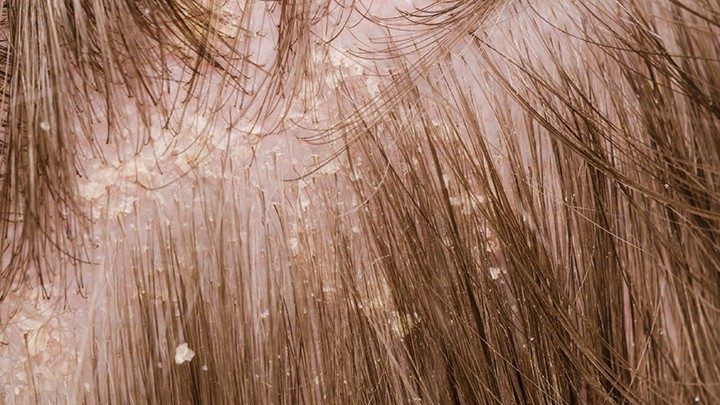 Sick of leaving a trail of flaky white snow every time you scratch your head? It's time to put an end it. Dandruff can be treated.
Which anti-dandruff tricks have worked for you?
1. Drink water, be sun-smart and avoid dehydration
Dry skin is simplest, and most common cause of dandruff. If your skin feels dry elsewhere (for instance, on your hands or face), it's a telltale sign that this is could be overall body issue.
The chances of this can be lowered by taking a few simple lifestyle steps: make sure you listen to your body's thirst impulses by keeping water easily on hand throughout the day. Avoid excess sun exposure without sunscreen, and be sure to protect your scalp. (That said: a little Vitamin D can actually help prevent dandruff.)
For more information, possible causes and treatments, see our guide on how to treat dry skin.
Ad. Article continues below.
2. Try an anti-dandruff diet
Surprisingly, adding certain ingredients to your diet can help reduce your overall risk of dandruff. According to the Mayo Clinic, dandruff may be prevented with enough zinc, B vitamins and certain types of fat.
Ideal zinc foods include oysters, wheat germ, pecan nuts and pine nuts. Foods rich in vitamin B include fatty fish, potatoes and cashew nuts.
Furthermore, consider cutting down on caffeine and alcohol – both well-known to dehydrate.
3. Shampoo more often – but cut down on styling products
Not washing your hair enough can encourage the skin cells or fungus on your scalp to build up; dandruff is the body's reaction. Make sure you shampoo and condition regularly.
Inversely, it's possible your specific shampoo could be causing the problem by triggering a reaction. Excessive styling are another red flag, as they can add to oil on the scalp. Work through the products in moderation and try to pinpoint which specific product could be causing the issue.
Ad. Article continues below.
4. Experiment with a wider range of anti-dandruff shampoos
While the suggestion is obvious, dedicated over-the-counter anti-dandruff shampoos really do help. They just take a little more persistence and willingness to experiment than many of us will usually allow.
It's worth noting that there are many active ingredients that can fight dandruff, each with very different properties – so if one shampoo doesn't work, chances are another product (with a different active ingredient) will.
Begin by looking out for an anti-dandruff option with zinc. This is one of the most common ingredients in treating a dry scalp. If this doesn't work for you, try working through shampoos using other key ingredients. Common recommendations include sulfur, coal tar extract, selenium sulfide, ketoconazole and/or salicylic acid.
Be sure to read the instructions carefully and really take your time, as many of these products will ask for extended lathering and repeat applications. It won't happen immediately, so give each shampoo up to a week of trying before moving on.
If supermarket anti-dandruff shampoos aren't working, pharmacies will offer stronger options – some over the counter, others requiring a prescription.
5. Consider seeing a doctor or dermatologist
If these steps haven't been effective, it's possible a longer-lasting skin condition may be causing the problem – and catches are it can be quickly identified and treated. Weigh the short-term inconvenience against the long-term frustration of a flaky scalp, and you may find it worth your while.
Do you deal with dandruff? Have these tricks helped you treat it? Are there any other techniques you can share with the Starts at 60 community? Leave a comment below!