The delicious no-fuss diet that can ward off depression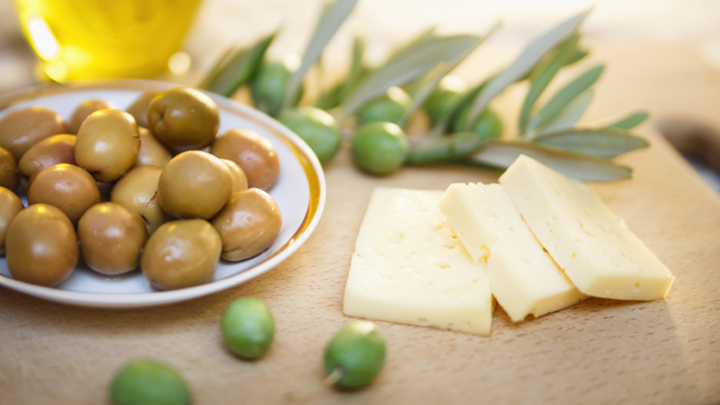 It's one of the diets that doesn't encourage elimination of certain foods, and is so good you'll want to do it all the time. Also, it's now been shown to improve your mental health.
The Mediterranean Diet, taking cues from the Greeks, follows these commandments:
Use olive oil as the main added fat (around 60 ml/day);
Eat vegetables with every meal (include 100g leafy greens and 100g tomatoes, and 200g other vegetables/day);
Include at least two legumes meals (250g serve) per week;
Eat at least two servings of fish (150-200g serves) per week and include oily fish: for example Atlantic and Australian salmon, blue-eye trevalla, blue mackerel, gemfish, canned sardines, and canned salmon. Canned tuna is not as high in the important fish oil omega-3, but still a good choice to include in your fish serves.
Eat smaller portions of meat (beef, lamb, pork and chicken) and less often (no more than once or twice a week);
Eat fresh fruit every day and dried fruit and nuts as snacks or dessert;
Eat yoghurt everyday (about 200g) and cheese in moderation (about 30 to 40 grams per day);
Include wholegrain breads and cereals with meals (aim for 3-4 slices of bread per day);
Consume wine in moderation (one standard drink a day, which is about 100 ml), always with meals and don't get drunk. Try and have a couple of alcohol free days a week;
Have sweets or sweet drinks for special occasions only.
Sounds great doesn't it? Science thinks so too with researchers from the Seguimiento Universidad de Navarra (SUN) Project finding that this diet, especially with its high intake of olive oil, could prevent the occurrence of depression.
Ad. Article continues below.
The study of more than 15,000 people, published in BMC Medicine Journal, showed three similar diets, namely the Mediterranean Diet, Pro-Dietary Pattern and the Alternative Health Eating Index, were proven to produce positive effects on one's mental health.
The scientists found just how crucial omega-3 fatty acids, fruits, nuts and vegetables are to decreasing the risk of depression.
Dr Almudena Sanchez-Villegas, from the University of Las Palmas de Gran Canaria told Mail Online, "We wanted to understand what role nutrition plays in mental health, as we believe certain dietary patterns could protect our minds".
"These diets are all associated with physical health benefits and now we find that they could have a positive effect on our mental health. The protective role is ascribed to the foods' nutritional properties, where nuts, legumes, fruits and vegetables, all sources of omega-3 fatty acids, vitamins and minerals, could reduce the risk of depression".
Tell us, would you give the Mediterranean Diet a go? Have you already? What benefits have you see in your physical and mental health?