Revealed: What doctors and health experts really eat for breakfast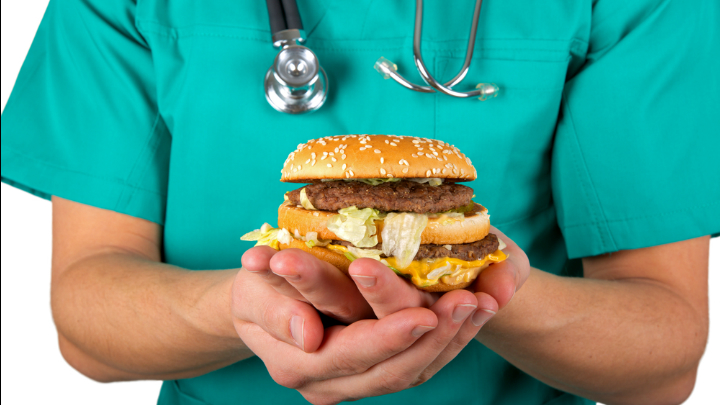 What are you making for breakfast this morning?
With so many different opinions on what makes a good breakfast, it's worth finding out what the world's top health experts really eat to start their day from eggs to smoothies.
Unfortunately, a burger isn't one of it.
Read this list before you head into the kitchen today…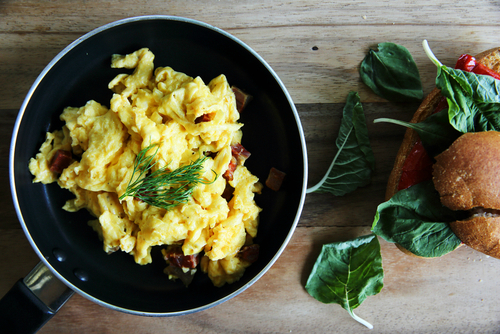 Ad. Article continues below.
1. Mike Roussell, Ph.D., Nutrition Consultant 
A glass of plain kefir, scrambled eggs with spinach and feta cheese, and a side of prunes.
2. Tony Horton, Celebrity Fitness Trainer and Creator of P90X
I saute tomato, garlic, red onion, pepper, and balsamic vinegar in olive oil, and serve this on toasted sprouted whole-grain bread topped with eggs over easy and avocado.
3. Keri Gans, R.D.N., Author of The Small Change Diet
Oatmeal cooked with nonfat milk, topped with chunky natural almond butter and chia seeds. Then a mug of black coffee (half decaf/half caffeinated).
4. Danielle Tafeen Karuna, Founder of Provita and Yoga Expert
I always start my day off with a big glass of room-temperature water to hydrate first. I make oatmeal with water and add low-sugar, wheat-free granola, chia seeds, wild blueberries, and a scoop of cashew or almond butter.
5. Dana Angelo White, R.D., Nutrition Expert for FoodNetwork.com and Sports Dietitian and Clinical Professor at Quinnipiac University
I keep sliced whole-grain bread from a local bakery in the freezer. On busy mornings I toast it and spread with peanut butter or top with a scrambled egg, cheese, and sliced tomato. On the weekends, I turn it into French toast. It's a simple, healthy ingredient that's so versatile.
Ad. Article continues below.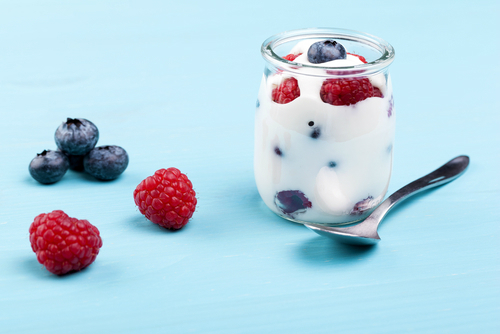 6. David Katz, M.D., M.P.H., Director of Yale University Prevention Research Center and Author of Disease Proof
Blueberries, blackberries, raspberries, banana, and any other fruit in season; nonfat, plain Greek yogurt; whole-grain cereal and a bit of cinnamon.
7. Cynthia Sass, R.D., New York Times Best-Selling Author and Sports Nutritionist
An apple smoothie made of a chopped apple (skin on) blended with unsweetened coconut milk, coconut butter, unsweetened pea protein powder, a handful of fresh spinach, and fresh grated ginger. Also a tall glass of water with lots of fresh-squeezed lemon added.
8. Jessica Matthews, Assistant Professor of Health and Exercise Science at Miramar College
A "breakfast bowl:" sliced hard-boiled egg whites, black beans, seasoned cubed tofu, and avocado. It's a delicious combo of protein, carbs, and healthy fats.
9. Erica Giovinazzo, R.D., Brick New York: CrossFit Coach and Nutritionist
I cook up whole eggs and egg whites, which I eat topped with peach and mango salsa. I am a firm believer in the importance of protein at breakfast. Because we're fasting overnight while we sleep, our body naturally releases sugar into our bloodstream, and so our blood sugar is always slightly higher in the morning. There's no need then to add fuel to fire with even more sugar!
Ad. Article continues below.
10. Gabrielle Bernstein, New York Times Best-Selling Author and Life Coach
My go-to breakfast is gluten-free oatmeal, coconut yogurt, and yerba mate tea.
11. Ellie Krieger, R.D., New York Times Best-Selling Author and Host of Food Network's Healthy Appetite
Overnight oats in a jar: I mix yogurt, milk, oats, vanilla, cinnamon, and honey, then stir in some quartered grapes and almonds, and put it in jars to sit in the fridge overnight. By morning the oats have softened and absorbed all the great flavours, and it becomes like a pudding studded with sweet juicy bites of grapes and crunchy almonds.
12. Tracy Mallett, Celebrity Trainer and Lifestyle Expert
My breakfast is steel-cut oats and raspberries with flaxseeds and coconut milk.
Is your own breakfast similar to these? Which one would you like to try?