Research shows nothing beats this breaky classic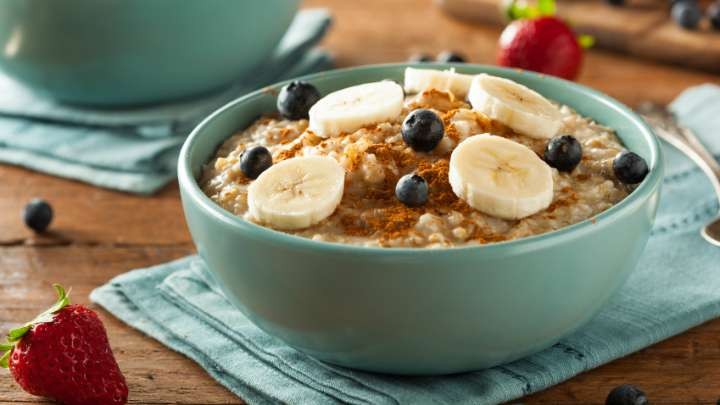 With the rise of low-carb diets and all-in-one liquid breakfasts like smoothies and Up&Go drinks, the consumption of cereals is declining in Australia. 
Research shows biscuit cereals like Weetbix, along with boxed cereals and muesli have lost popularity in the past four years, with up to 800,000 fewer people eating them. 
Across the whole cereal category, only one steamy bowl of goodness has survived the overall cutback on grains in the Aussie diet, and that is, of course, porridge.
More than half a million people
Unsurprisingly, it's older folks who make up the most likely porridge-eaters. Having grown up with them we know nothing gets the day going like a bowl of hot oats.
Ad. Article continues below.
Women comprise the majority of porridge eaters; and nearly one in three Aussies over 65 opt for oats first thing in the morning. 
People who choose porridge also tend to be the healthier type. The Roy Morgan research showed those who selected this option from the menu were around 20 per cent more likely to choose healthy snacks, and opt for a low-fat diet. Around 13 per cent were more likely to buy organic foods when possible. 
The consumption of grains has decreased in Australia by 30 per cent and, in an attempt to capture the protein-hungry crowd, Uncle Tobys tried to tell us porridge was a "protein superfood".
The iconic brand had its knuckles rapped for misleading advertising because it was unclear that the "high in protein" claim assumed the porridge was made with milk. 
That said, oats are fabulous in so many ways. One cup of oats provides 6g of protein, (which is good, but falls short of the 10g required to be labelled "high in protein") and 4g of fibre. They are low-GI and make good "roughage" for the gut. Best of all, they nourish your skin from the inside out. 
And of course, porridge can be as healthy – or as unhealthy – as you want to make it. Starts at 60 General Manger, Brett, is famous for his once-a-year burnt butter fig and caramel sauce porridge, which definitely sounds like it's worth getting out of bed for!
Are you a fan of porridge? How do you like your oats?