Natural ways to clean and freshen your teeth and gums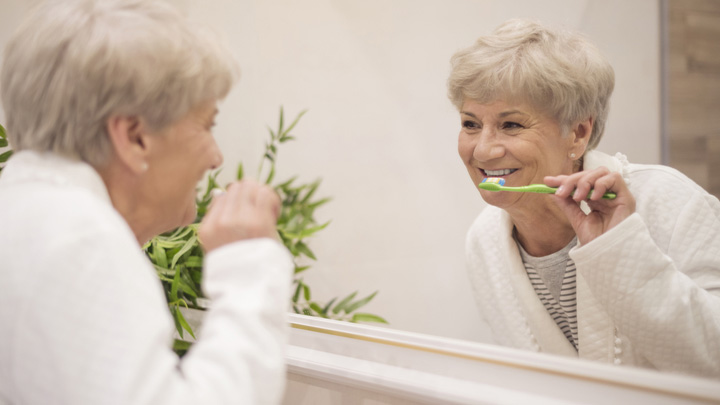 Living in 2015, you'd think we'd be happy with modern dentistry, however more people are getting cavities than ever, and are finding it harder to keep their teeth clean.
And it's not that the message isn't getting across – it's just that the expensive methods to prevent and treat tooth decay aren't always effective.
That's why it can be beneficial to get back to basics and ditch the fluoride-filled chemical concoctions and use good old fashion home remedies to improve your oral health.
Here's some tips to doing just that!
Reduce cavities
Ad. Article continues below.
Oil pulling
You may have heard of oil pulling – it's been used for centuries by Ayurvedic medicine, and is an oral detoxification procedure that has gained some popularity in the last several years.
All you need to do is swish a tablespoon of olive or coconut oil around your mouth and 'pull' it through your teeth, for around 20 minutes.
Immediately after spitting out, rinse your mouth out with warm water. Use salt water for added antimicrobial properties.
Clove
Ad. Article continues below.
Clove is one of the most important ingredients for treating any kind of dental issue, including cavities. Due to its anti-inflammatory, analgesic and antibacterial properties, clove is great for fighting oral issues.
Simply dab clove oil on your affected tooth every night before bed, or gently chew on a clove.
Salt
Salt can also be used to treat cavities due to its antiseptic and antibacterial properties. It can reduce inflammation, ease pain, draw out any infection and prevent growth of bacteria in the mouth.
All you need to do is dissolve 1 teaspoon of salt in a glass of warm water. Swish around your mouth for 1 minute, concentrating on the affected tooth.
Ad. Article continues below.
Garlic
Garlic is rich in antibacterial properties as well as antibiotic and is a great painkiller.
Apply a past of garlic cloves to your infected tooth twice daily until swelling/infection goes down.
Teeth whitening
Strawberries
Ad. Article continues below.
There is evidence that strawberries can help whiten teeth thanks to their malic acid and vitamin C. The astringent found in strawberries helps to remove surface stains, while vitamin C washes away plaque. Simply eat the beautiful berries and chew well.
Bicarb soda and lemon
This is one of the most popular of the natural teeth whitening home remedies – because it works! Both ingredients are natural lightenings and brighten teeth. However be sure to only brush with this solution up to once per week as it can wear away the tooth enamel if used too frequently.
In a small bowl, mix a little bit of bicarb soda with the juice of a freshly squeezed lemon. The mixture should bubble slightly. Using a cotton swab, wipe saliva and excess plaque from your teeth before brushing on the mixture.
Gum disease
Ad. Article continues below.
Mustard oil
This method has been used for hundreds of years to combat gum disease as it destroys bacteria in the mouth and heals the gums quickly. It also has pain-reducing qualities as well as being anti-microbial and anti-bacterial.
Aloe vera gel
Aloe vera is a great anti-inflammatory that is especially helpful if your gums are red and inflamed. Apply the gel to the gums line and leave overnight.
DIY oral health products
Ad. Article continues below.
DIY mineralising tooth paste
Don't spend $5-10 on special tooth pastes that claim to improve your oral health. Here's one you can make at home.
4 tbsp coconut oil
2 tbsp bicarb soda (aluminium free)
1 tbsp xylitol
20 drops peppermint or clove essential oil
1 tbsp calcium/magnesium powder
Mix all ingredients in a small bowl and apply the same amount you would to your toothbrush. Brush as normal and rinse.
Natural mouthwash
Ad. Article continues below.
This mouthwash has antibacterial and antifungal properties to help keep bad breath at bay, and costs a fraction of the store bought products.
What you need:
A small jar
½ cup filtered water
2 tsp bicarb soda
2 drops tea tree essential oil
2 drops peppermint essential oil
Mix together and pour into jar. The bicarb soda will settle to the bottom of the jar when not in use, so be sure to shake mouthwash before each use. Swish about 2-3 teaspoons of this homemade formula in your mouth for a minute or two, then spit out.
Share your thoughts and other tips below.