Ladies, here's why you shouldn't automatically assume you are lactose intolerant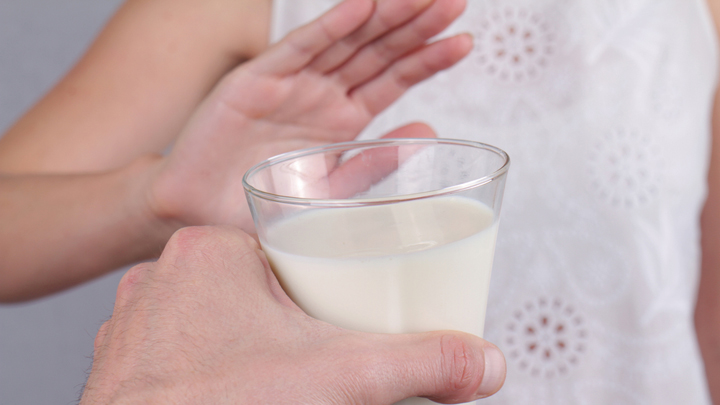 Experts have an urgent warning for women who think they're lactose intolerant and have stopped eating dairy.
New research from Roy Morgan shows women are three to four times more likely to report being lactose intolerant than men across all age groups, however it is not clear whether all of the 15,000 people surveyed did in fact have clinically diagnosed lactose intolerance, leading to experts to issue a warning to women who believe they are without being tested.
A common response to self-perceived lactose intolerance is to exclude dairy from the diet immediately at the first sign of a perceived issue such as diarrhoea or bloating.
Aloysa Hourigan, senior nutritionist at Nutrition Australia, has advised people against doing this, telling The New Daily cutting out dairy can lead to other chronic health problems, including osteoporosis, diabetes and hypertension.
"If you start avoiding all dairy foods and don't substitute with foods with similar protein and calcium value, then you could be missing out on some key nutrients," she said.
Ad. Article continues below.
"If you don't get enough calcium then there is a risk to your bone health and other metabolic processes. Protein is essential for muscle repair, enzyme and hormone production and a range of other body functions".
And even if you do have a lactose intolerance, you do not necessarily need to avoid dairy altogether. A lactose intolerant adult can still tolerate 5-7 grams of lactose per day.
"Lactose is not present in high amounts in all dairy foods," Ms Hourigan said. "Hard cheeses have negligible lactose but still provide a good source of calcium and protein".
"You could potentially get the nutrients in milk from other food sources – however, not always in the same balance – so this is why it is a good idea to seek the advice of an accredited practising dietitian or other appropriately qualified health professional".
Professor Maximilian de Courten, Director of the Centre for Chronic Disease Prevention and Management at Victoria University said the symptoms of lactose intolerance can actually mean something else entirely.
Ad. Article continues below.
"One condition which has very similar symptoms (to lactose intolerance) is Irritable Bowel Syndrome," he said.
Anyone who thinks they are lactose intolerant should get confirmation from their doctor and an action plan, before swearing off dairy permanently.
Tell us: do you have a lactose intolerance? Has this been proven? How do you keep your lactose levels up?