Kit for Cancer: Making cancer treatment a more dignified experience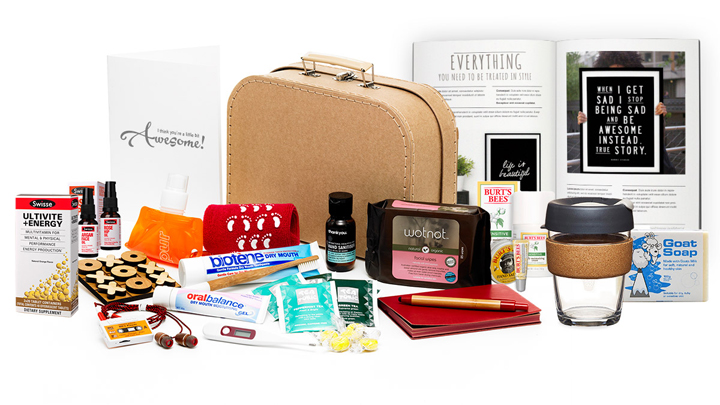 Shelli Whitehurst was a successful businesswoman loving life when she heard the words that would change her life forever: 'you have cancer'. Instead of feeling sorry for herself, she wanted to create a product for people just like her who had their life changed by those three simple words. Shelli has developed a product that is set to make cancer treatment for the world's 14-million-plus sufferers a more dignified and bearable experience.
Called Kit for Cancer, the luxurious care package is filled with practical items useful for people undergoing chemotherapy. Shelli said Kit for Cancer has been curated by current and former cancer patients and is designed to support people from the moment they are diagnosed to the 'next,' by providing the essentials to assist them through the discomfort of treatment.
"Cancer is ugly, but that doesn't mean the treatment process has to be," Shelli says.
"There are so many things people don't think of when they are about to undergo chemo; how their taste buds will change, how their skin will become sensitive and irritated, and how they will become extremely tired".
People undergoing chemotherapy experience many side effects on top of the noticeable hair loss – Kit For Cancer contains a collection of products to aid in relief of these symptoms.
Ad. Article continues below.
Shelli also said that while raising more for future cancer research is important, there isn't enough emphasis on the everyday people who are going through cancer right here, right now.
"KIT is the first sentimental gesture that is actually geared towards getting people through the daily regime of treatment," Shelli says.
KIT donates 30 per cent of its sales directly to cancer support charities including Tour de Cure.
Shelli understands how difficult battling the disease can be, as her breast cancer diagnosis involves widespread metastasis to the bones – this means her cancer is incurable.
She and her co-founders want to provide practical support for cancer patients and want them to know they are not alone.
Ad. Article continues below.
So what's included in the kit?
Journal, Stylus Pen & Thermometer: A journal can assist someone going through this difficult time, to process their feelings and thoughts. It can also allow them to keep track of any notes on their treatment and recovery.
Goat's Milk Soap: A cancer patient's skin needs extra care during treatment, so it's important to use gentle products that minimize the chance of skin aggravations. This goat's milk cheese not only smells and feels divine, but it also nourishes the skin and reduces any chemical interferences.
Argan Face Oil: As a result of chemotherapy and other treatments the skin on the face can become very dry, so this oil is just what the skin needs to feel better.
Rose Hip Oil: During chemotherapy, most often hair will fall out. This oil will help to relieve the itchiness that arises during this time. This is a great oil to help soothe and nourish the scalp while hair is growing back.
Water Bottle: Water and hydration is vital to treatment. This water bottle conveniently folds up and can be carried at all times for convenience.
Face Wipes: These wipes are great when patients feel like a quick freshen up. Whether that be at the hospital or at home in bed, it's nice to have these convenient wipes all times to make them feel better.
Biotene Mouthwash, Biotene Toothpaste & Soft Toothbrush: During treatment it is suggested that patients wash their mouths out at least four times a day in order to keep their mouth sanitised and ulcer/sore free. These products are perfect for sensitive teeth and gums.
Fruit Tingles: A patient's mouth and taste buds will change dramatically, so fruit tingles are the perfect treat to help activate the mouth and assist with any dryness that may have occurred.
Burt's Bees Lip Balm: Cracked lips are uncomfortable and can be extremely painful, so this balm will ensure one's lips are nourished.
Hand Sanitiser: It's important to stay as healthy as possible during treatment, so hand sanitiser is the best way to avoid any unwanted germs and nasties. In a convenient travel pack, patients can pop it in their handbag so they can apply it wherever they are.
Earphones: Whether a patient is at home or the hospital, sometimes they just want to zone out. They can load their favourite tunes onto their music player, pop their earphones in, close their eyes and fall into a dreamy wonderland.
Hydralyte: Hydration is so important and quite often during treatment patients will go through bouts of vomiting and diarrhea, which can cause severe dehydration. Hydralyte is the best thing to ensure they get all of your electrolytes back into their body. There are a variety of yummy flavours to choose from, which is a bonus!
Keep Cup: It's never nice drinking out of plastic or styrofoam cups, so this gorgeous glass Keep Cup is perfect. Great for water, soft drink or a cup of tea or coffee, this cup will ensure patients are drinking in style whether at home or the hospital.
Burt's Bees Hand Salve: Patients' hands and nails will go through a rough time, and dry and cracked skin is very unpleasant. Packed with botanical oils, herbs and beeswax, this lotion will have their hands feeling fresh and moisturised at all times.
Moisturiser: A sensitive moisturiser that is great for use on a cancer patient's face and body. The natural ingredients will constantly keep their skin nourished and will ensure there will be no chemical interference.
Tell us, would you purchase a Kit for Cancer for a friend or relative? Is it a great idea, do you think?