How to achieve sexy, wrinkle-free décolletage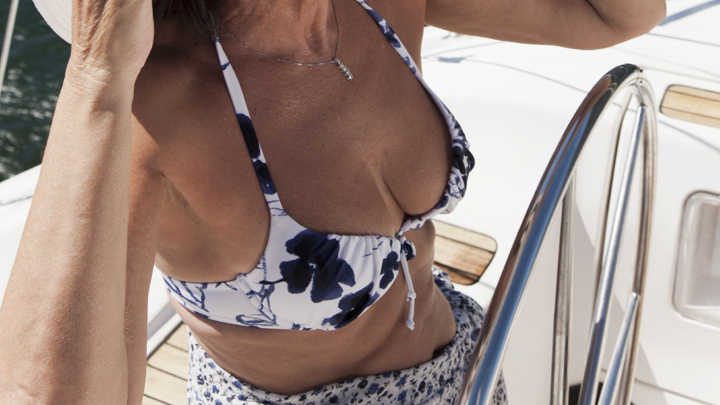 As we age, we get wrinkles in strange places, and sadly one of the most noticeable places is our chests. But that doesn't mean we can't embrace our décolletage!
Here are some great ways to get your breast and chest area looking amazing…
1. Give it a 'facial' 
We exfoliate, cleanse, tone and moisturise our faces but we need to keep going to our chests. Cleanse with the same cleanser you use on your face, and then exfoliate like you would normally.
Ad. Article continues below.
Massage underneath the neck, as well as your breasts to perk them up.
2. Apply moisturiser daily
Wrinkles can be etched into drier areas of the skin, so the more smooth and well-oiled the skin is, the less it will wrinkly. Applying a moisturiser daily to maintain suppleness. Decollette pads – medical-grade, self-adhesive strips are typically used for scars – work well to stimulate collagen along the lower neckline. Also, any creams with retinol, alpha hydroxy acids, kinetin or copper peptides will help, however products with silicon will not. Silicon cannot penetrate pores without injection.
3. Lift with tape 
Step 1: While leaning over, give your boobs a lift then start with a strip of tape about 30cm long, depending on how big you are or where your dress is cut. Then, tape from one side of your boobs, with the end pointing toward armpit, under the breasts to pull them together a bit, then up the other side of boobs with the end pointing toward the other armpit.
Step 2: Standing up straight, take a strip of tape and place it horizontally across boobs while pulling them together for cleavage and to where it covers nipples, being sure each end touches the previous tape strip on the side, near your armpits.
Step 3: A third strip can be placed above the second for reinforcement, pulling the breasts together again.
Ad. Article continues below.
4. Sleep flat on your back 
Sleep on your back with your head placed so it cannot move along with your body. Sleeping on your side pushes your breasts together, creating cleavage that pushes into your décolletage.
5. Get a better bra
Balconette bras make older breasts look perky and sit up – there are bras that support from the bottom and push up. Wearing too tight of a bra can put stress on the skin between the breasts resulting in deeper wrinkle-forming furrows.
Find a professional bra fitter who can help you find the best fit for your breasts.
Ad. Article continues below.
6. Protect your chest
One of the common causes of chest and neck wrinkles is sun damage. Because the skin on our chests is so sensitive, the suns rays are even more damaging. Make sure you cover up as much as possible when in the sun, and wear a high SPF sunscreen.
7. Turmeric paste
Mix turmeric powder and sugarcane juice and make a paste. Apply this paste and let it dry up on the skin and then wash off with clean water.
8. Olive oil and pineapple mask
Ad. Article continues below.
This mask hydrates and plumps up the skin, as well as naturally exfoliating dead skin cells and cleaning out your pores. Combine a cup of pineapple chunks (without syrup) and 3-4 tablespoons of olive oil into a blender and blend until smooth. Apply to your face, neck, and chest and rest for 20 minutes. Rinse in the shower.
9. Put some makeup on
Don't stop at your neck: put some makeup on your breasts as well. If your boobs are on the smaller side, or you want to make them look nice and curvy, apply some bronzer/contour powder a few shades dark than your skin tone in a 'C' shape around your cleavage.
Tell us, do you show off your cleavage? What are your tips for making it look great?