Here's why staying connected as we age is so important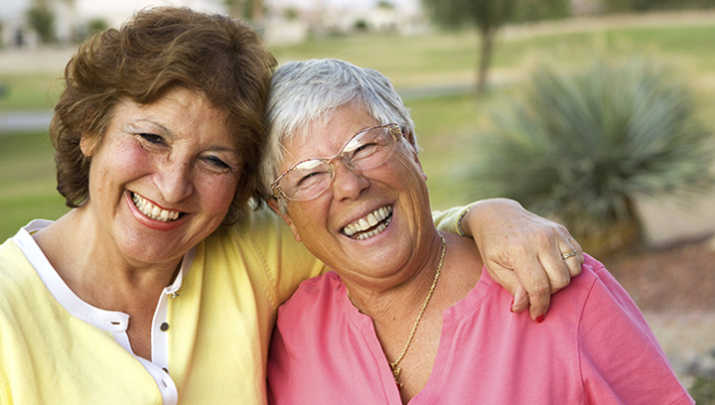 Depression and anxiety affect three million Australians every year and is common amongst all age groups, including older adults with around 10-15 per cent experiencing depression and 10 per cent experiencing anxiety. When you look around at your friends, do you realise that it could be one of you?
People over sixty are perhaps at greater risk of developing these mental health conditions due to their being more likely to have an ongoing physical illness or having experienced personal loss – such as death of a spouse or friends, loss of independence and/or loss of self-worth due to not working anymore.
Research shows there is a strong link between loneliness and poor mental health. Being connected to other people is important for mental and physical wellbeing and can help to protect people against developing anxiety and depression.
To help older people reduce their feelings of isolation and build social connections within their community, beyondblue has produced a booklet called Connections matter. It provides practical and evidence-based suggestions for older people to help strengthen and maintain their social networks.
For example, learning new skills, talking about the important things in life with loved ones, or scheduling more time for regular conversations with likeable and interesting people, can enrich lives.
Ad. Article continues below.
To meet new people and make meaningful friendships, there are many groups where interests and values can be shared with people of like mind.
beyondblue CEO Georgie Harman said strong ties with family, friends and the community are important for maintaining good mental health.
"Research shows a strong link between loneliness and poor mental health, however there are many community activities designed to bring older people together to enjoy themselves and make new friends.
"Unfortunately, as people get older, they often become lonelier because they stop working, loved ones and friends pass away, and health problems can reduce their mobility.
"But there is a lot that older people can do to increase their social circle and stay in touch with family and old friends."
Ad. Article continues below.
Dale is a 69 year old woman who enjoys playing croquet for fun and getting together with friends to talk about a range of different topics. Her talking circles have been a great way for her to stay connected with others.
"I belong to a group of about 20, who talk about a lot of different topics. The bunch of friends I have now are better than I've had all my life, and some of them do go back 50 years.
"I have 20 years left and I want them to be the best they possibly can be. And with happiness, contentment and good mental health, I think I'm going to have a great time."
There is no one proven way that people recover from anxiety or depression and it's different for everybody. However, there is a range of effective treatments and health professionals who can help people on the road to recovery. The important thing is finding the right treatment and the right health professional that works for you.
Ad. Article continues below.
There are also many lifestyle changes that people with anxiety and depression can make to help themselves to recover and stay well. For example, it's important to exercise regularly, eat balanced and nutritious meals, and get enough sleep.
To learn more about the signs and symptoms of depression and anxiety, and to watch the stories of people who have recovered from depression and anxiety, go to the beyondblue website.
How do you stay connected with others? What social groups or clubs do you belong to?
If you think you, or someone you know, may be experiencing symptoms of depression or anxiety or is at risk of suicide, talk through your concerns with your GP or chat to the trained mental health professionals at beyondblue Support Service on 1300 22 4636.
www.beyondblue.org.au/startsatsixty
This article has been sponsored by beyondblue. It was written as we feel it provides the Starts at 60 community with valuable insight into a highly important topic. To find out more about the world that beyondblue does and to learn more about mental illness and ageing, click here.