Being diagnosed with macular degeneration can be a worry, with thoughts that many of the activities you took for granted might no longer be possible.
Starts at 60's CEO and founder Rebecca Wilson understands how that feels, because her stepmother was only in her 50s when she got her macular degeneration diagnosis.
"My step mum was told she wouldn't be able to live her life like the young person she still felt she was, and the idea terrified her," Rebecca remembers. "She was imagining not being able to read books with normal print, or even read the face of her watch.
"But we took a trip to the Vision Australia store – and I have to admit, it wasn't a trip she was looking forward to – and it was such an exciting discovery, because there were so many vision aids we had no idea existed, things that help you live everyday life without having to ask for help or having other people notice your vision issues."
Macular degeneration – a disease that affects a special layer of cells in the eye – is the leading cause of vision loss and blindness, and over-50s are particularly at risk, with one in seven Aussies aged over 50 showing some sign of the disease.
With such a life-changing disease being so common among older Australians, Starts at 60 has teamed up with not for-profit organisation Vision Australia for May's macular awareness month to raise awareness of the clever products out there that can soften the blow of a macular degeneration diagnosis.
Vision Australia's even offered a generous 10 per cent off the full price of its hundreds of products just for Starts at 60's readers.
"We found so many helpful things for my step mum," Rebecca says. "Tools that helped you chop food for cooking without chopping your fingers, magnifiers for everything from reading fine print to putting your make-up on, even watches with larger numerals that were so delicate and feminine, no one would look twice at them and realise the numbers were magnified."
Here are some of the smartest, most helpful products Vision Australia can provide. You can see these products and many others in any one of the 28 stores around Australia, or purchase them online.
Clever kitchen aids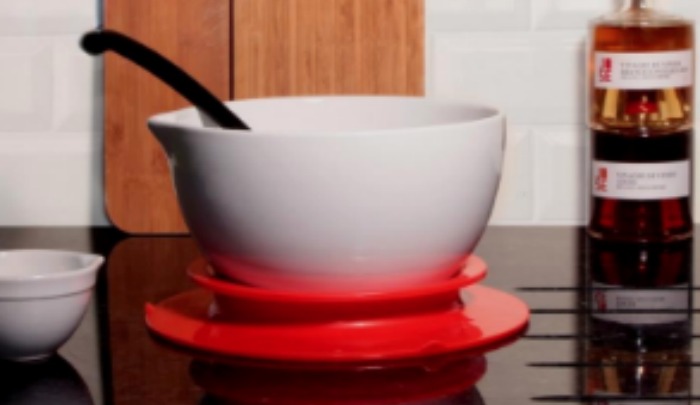 Instead of trying to interpret the beeps a normal microwave makes, the Cobolt Talking Microwave ($630 or $850 for the combination version) tells the user which functions they're selecting as well as providing cooking instructions, even telling the cook when it's time to stir their food so it doesn't spill over.
Vision Australia also has talking kitchen scales (from $86), kettles ($100), thermometers ($75) and measuring jugs ($200).
For lower-tech kitchen help, there is a range of simple tools, such as a Bread-Cutter Guide Board ($50) and Audible Liquid Level Indicators ($19), that can help prevent nasty injuries from boiling water and sharp knives, while non-slip mugs ($34) and Staybowlizer bowls ($34) ensure no accidents while eating.
Talking Tin Lids ($15) and Band-It Tactile Bands ($19 for 10), meanwhile, save the guesswork when it comes to working out what's in the pantry.
Smart sewing help
Trying to thread a sewing machine needle when you can't quite see the eye is infuriating! But the Infila needle threader ($13.00) does the work for you with the push of a button, working on both single- and double-threading needles.  For hand-sewing, packs of pre-threaded needles and self-threading needs start at just $3.