Enhance your most important facial feature with these top lip tips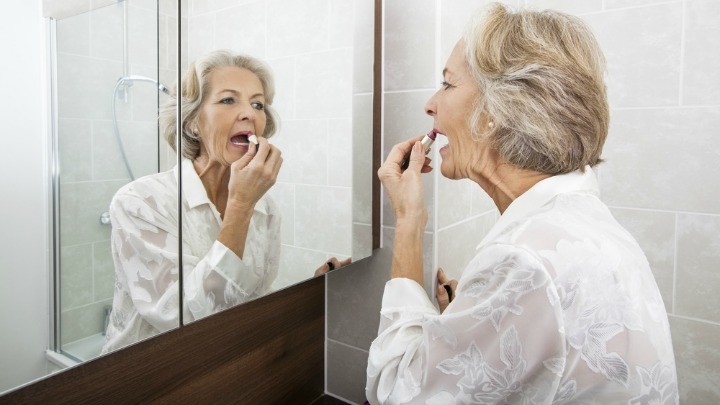 Our lips are one of the most important facial feature because they frame everything we say – they form our smiles and kisses and emphasise our facial expressions. Since women began wearing make-up, painted lips have been fashionable and now in modern times there is a multi-billion dollar industry out there to help us have luscious looking lips, so take advantage of it and seek out what might suit you.
I have recently discovered lipstain and am finding that long-lasting colour is wonderful because I never look dreary and washed out. I will include tips for those who like to use lipstick as well as tips for the lipstain ladies.
LIPSTAIN
My choice – keeps the lips coloured all day even after eating and drinking. It can come in a two pack – lipstain and lipgloss.
Apply the lipstain very carefully to powdered lips.
Begin application in the centre of the lips to lessen the load of colour on the applicator, so making it easier to outline the lip.
Keep your mouth open and stretched for 60 seconds whilst the lipstain dries.
Apply lip plumping conditioner to smooth, plump and fill, then the supplied lip gloss.
For a more dramatic effect, apply a layer of lipstick in a shade to match the lipstain after the lip plumping conditioner, blot and dab some lip gloss in the centre of upper and lower lips. Run your finger in and out of your lips to prevent stained teeth.
Ad. Article continues below.
*TIP Keep the bottom lip full by shortening the top lip by as much as one centimetre at the outer edges to counteract gravity and give the up, up, up look.
LIPSTICK
Press some face powder onto dry lips, then an application of lip plumping conditioner to smooth, fill and plump (comes in a tube with a texture like lipstick).
Now apply the lipstick colour of choice; select a reasonably strong colour. I am recommending fuchsia shades at present. Blot with a tissue.
You might like to repeat these four steps for a special occasion – a longer lasting and more intense effect.
Edge with a hard, sharpened lip pencil to define the lip outline.
Because blotting will reduce the the lustre of your lipstick, a dab of lip gloss in the centre of the upper and lower lip, patted with your finger makes a nice finish.
Now run a finger in and out between your lips to prevent lipstick on the teeth.
Choose strong lipstick colours to suit your complexion and a creamy texture for a dewy finish.
*TIP Lip plumping conditioner will diffuse a strong lipstick colour – the intensity will be softened just enough to be more flattering.
Once again, keep lipstick on the bottom lip full and extended up as far as possible, keep the lipstick on the top lip shorter in length to give that upward cupid's bow, smiling appearance.
Ad. Article continues below.
You might consider going as far as having a lip enhancement treatment at your cosmetic medical clinic – a great favourite of mine. Tiny amounts of filler are injected and cause the lips to become nicely full and plump. Your clinician can define the edges which gives an excellent finish. Don't worry about looking bee-stung, your clinician will discuss age appropriateness with you.
*N.B. Use an anaesthetic cream on your lips 30 minutes before your appointment. Keep a handkerchief in you hand – your eyes will water and your nose might run.
Four Tips for Beautiful Lips
Freshen lipstick or gloss frequently, especially after eating and drinking.
Avoid coral colours – make the teeth look yellow.
Use pawpaw ointment or a royal jelly salve at night to keep lips moist and smooth.
Quirk up the corners of your mouth, even when in repose, to give an up, up, up look – you might think that you look a bit inane, but you don't really, just counteracts gravity and prevents that drooping, grumpy appearance. Practice in front of the mirror.
Keep your lips smiling, smiling, smiling so that you look young and happy. Smiling pink lips will make you look vibrant and beautiful.
Ad. Article continues below.