Does your sunscreen really work?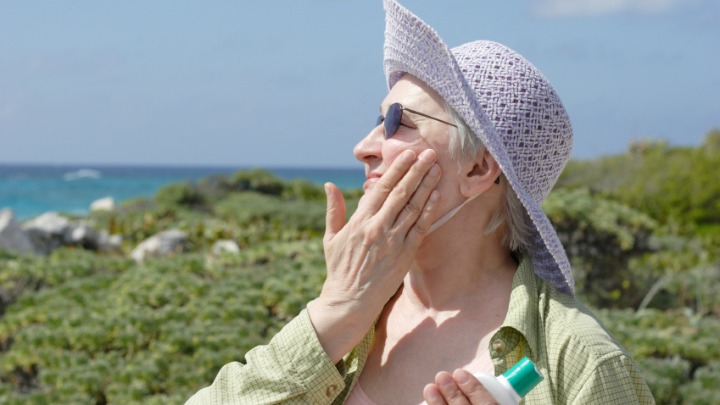 For those of us who were in their 20s (or beyond) when the "slip, slop, slap" campaign appeared, the prospect of skin cancer is both real and frightening. We've been told, and we've got the message loud and clear: wear sunscreen.
But what if we're getting it wrong?
As the northern hemisphere heads into summer, the US-based Environmental Working Group has released its annual guide to sunscreens, revealing the good, the bad and the ugly of skin protection. At one end of the spectrum: safe sunscreens that provide excellent coverage and don't pose a threat to your health. At the other: questionable sunscreens that don't come close to providing the protection they promise to deliver, which contain chemicals that could cause cancer.
The EWG Hall of Shame features spray-on sunscreens, which the group says can be dangerous when inhaled and provide insufficient coverage. Also mentioned are oxybenzone, a common active ingredient that may disrupt hormones;methylisothiazolinone (MI), a preservative banned in many countries in products that are left on the skin, plus retinyl palmitate, which is added as an antioxidant to benefit the skin, but is believed to increase skin cancer risk.
"A study by US government scientists suggests that retinyl palmitate, a form of vitamin A, may speed the development of skin tumours and lesions when applied to the skin in the presence of sunlight".
Ad. Article continues below.
Also in the Hall of Fame were sunscreens with SPF values above 50. In Australia, the maximum sun protection factor allowed is 50, whereas in the US, manufacturers make sunscreens up to SFP110+.
Hollie Jenkins, spokesperson from the Cancer Council Australia, says, "Sunscreen in Australia is tightly regulated by the TGA to ensure safety and effectiveness, including spray on sunscreens. Oxbenzone is approved by the TGA as a safe and effective sunscreen ingredient, as is methylisothiazolinone and Vitamin A – however there are a wide range of sunscreens available in Australia, so there is plenty of choice if consumers wish to buy different formulas".
Here's how to get it right
Australia has the highest rate of skin cancer in the world, and arguably the greatest range of quality sunscreens available. There are natural options, which use a physical blocking agent such as zinc oxide, or chemical sunscreens.
The key to protecting yourself is to apply your chosen sunscreen correctly, which is something we can all improve on. A good example of understanding how to use sun lotion is knowing that regardless of the SPF, you still need to reapply every two hours or after bathing or towelling yourself dry. It's also important to ensure you're applying enough.
Ad. Article continues below.
As this fact sheet explains, most people apply far less sunscreen than recommended by the manufacturer, which can mean you're only getting 50 to 80 per cent of the sun protection factor. You need around 45ml per applications for an adult. As a guide, use one teaspoon of sunscreen on the face, head and neck, two teaspoons for the torso, one teaspoon to each arm and forearm and two teaspoons for each leg.
Other tips from the Cancer Council are:
Check the use-by date stated on the packaging
Store sunscreen below 30°C
Apply the right amount to get the full protection: you'll need at least 35ml to cover an adult
Applied 20 minutes before going outside
Remember that no sunscreen provides full protection, so should  always be used in combination with other sun protection measures – clothing, broad-brimmed hats, shade and sunglasses.
Doctor Patricio Gordillo from Cairns Skin Cancer Clinic, speaking to the Cairn Post recently about the influx of  skin-cancer patients in their 50s and 60s, said, "A lot of sun damage happens by the time you are 15. Baby boomers grew up spending a lot of time in the sun and that population is ageing,   the damage adds up."
It may be getting cooler where you are but it's still important to protect your skin if you're out in the sun for the day. Have you been applying your sunscreen correctly?