Could retirement be making us reach for another glass?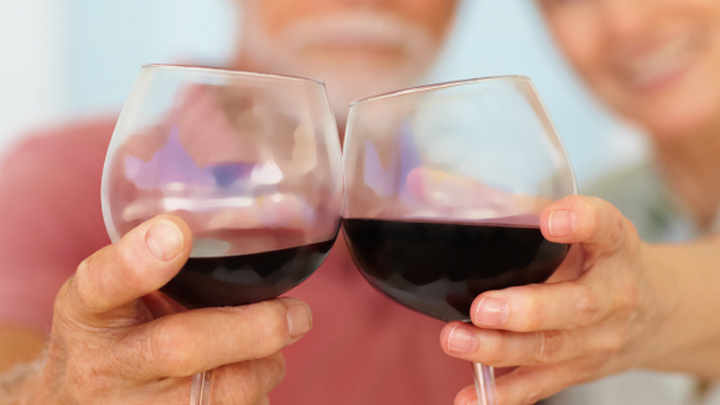 It's no secret that most of us over 60s like a drink, and have the odd one every few days. But is retirement one of the main reasons we drink? Is there a link between retirement and alcohol abuse?
A 2012 study of 421 over 60s showed that one in five consumes dangerous levels of alcohol, the equivalent of those in their 20s drink, however there are much more serious health consequences. You might think that having a few glasses with dinner, or having a nightcap is fine but research is showing that the amount of over 60s with an alcohol dependency is likely to double in the next 5 years. So are we going to be a burden on the health system if we continue to drink? Perhaps. Healthcare professionals may struggle to facilitate an influx of those with an alcohol problem.
Would national guidelines and lowered alcohol limits for over 60s help to drive the message home? Melbourne University researcher Kim-Michelle Gilson believes so. She also warns that retirees should not be drinking more than one drink a day or seven in a week. But director of drug and alcohol agency WRAD, Geoff Soma, disagrees. He told The Standard that "people who abuse alcohol never adhere to guidelines anyway". He also said that there is no doubt the more people drink over a long timespan has an impact on their major organs.
The University of NSW has found that of the over 65s seeking aged-care services, 20 per cent have an alcohol problem.
So why is retirement a catalyst for a change in consumption of alcohol? Shouldn't we feel the same way about drinking as we did when we were working or semi-retired? In the book Retirement and the Hidden Epidemic, authors Peter A. Bamberger and Samuel B. Bacharach quoted substance abuse counsellor Steven Wollman, who said, "In retirement, there can be depression, divorce, death of a spouse, moving from a big residence into a small residence". Basically, retirees may turn to substance abuse as a means of curbing feelings of loneliness, anxiety, or plain boredom. And for anyone who's an addict, that's the number one trigger: boredom and too much time. Does this ring true for you or someone you know?
Ad. Article continues below.
And you don't have to be living below the bread line either – alcoholics come from all walks of life: rich or poor, affluent or homeless. Sally Scriminger from Foundation66 told The Telegraph that "Many are retired professionals, who never had issues with alcohol in the past. They don't even have to leave home to buy alcohol – [online] delivery services will bring it straight to their door".
Just because you, your friend or your family member doesn't seem like they have an alcohol problem, doesn't meant they wouldn't be able to. Some can keep it hidden, and some are in denial.
But why is having more than two drinks on an occasion worse now in our 60s? Isn't the risk the same as when we were in our 40s and 50s? Not exactly, because as we age, we metabolise alcohol differently, thus making us more susceptible to its effects. And when we retire, our lifestyle changes. Depending how you came into retirement and how it is going, as well as your age, support group (or lack thereof) and relationship status, these can all be reasons why you might reach for the bottle.
This is really just scratching the surface of a much broader issue, but it looks like the problem will only get worse unless there is some sort of government intervention or more health services.
Take our polls below and tell us, have you found yourself drinking more in retirement? Is it a worry for you?
[polldaddy poll=8663922]
[polldaddy poll=8663923]