Going barefoot could be putting your health at serious risk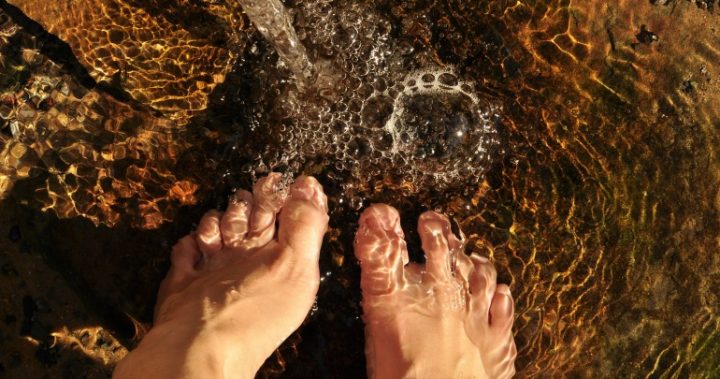 Going barefoot on the grass or sand is a lovely feeling. But you may want to think again if you're also baring your soles in other public places.
A new study by Excilor, which sells foot treatment products, found that a surprising number of Aussies had caught annoying and even painful foot conditions while going barefoot. And while it's perfectly normal for people to take off their shoes and let their feet breathe when it comes to activities like swimming, camping or relaxing by the beach, experts say that these conditions are worth being cautious about because they can have serious consequences for people with other health conditions.
An array of foot diseases and infections like athlete's foot, tinea, warts and even fungal nail infections are commonly spread when people walk around without their feet covered. The Australian survey found 62 per cent of respondents admitted to walking around barefoot at communal areas, despite 94 per cent of people suggesting that they're afraid of developing some sort of infection. Alarmingly, 33 per cent of those people said they had picked up a nasty foot disease, with sports podiatrist Muhammed Maarj urging people to be more serious about their foot health.
"Moist areas including swimming pools, showers, change rooms, toilet blocks and even pavements around the beach create the perfect breeding ground for these infections," Maarj said. "Although it may seem harmless, you could be putting your health – and the health of your family – at risk by walking around barefoot."
And while foot health may not get the same attention as other health conditions, Maarj has warned that it isn't something people should overlook. "Foot infections should not be downplayed," he warned. "In fact, warts are a type of HPV that can occur anywhere around the body. A plantar wart under a big toe can cause someone to walk differently due to the pain."
Ad. Article continues below.
In extreme cases, fungal diseases can impact people with pre-existing medical conditions like atherosclerosis or diabetes, sometimes resulting in amputation of the foot. Maarj added that in some cases, medical bills and podiatrist consultations can exceed $500 (U$391). What's worse is that there's a stigma and embarrassment surrounding foot issues, with 38 per cent of sufferers avoiding health professionals when they notice something is wrong. 
But Excilor advises that there are number of things people can do to avoid foot conditions, without avoiding going barefoot completely. Where possible, try and keep feet dry so it's not as easy for fungal and bacterial infections to spread. When in a clean environment such as your home, try letting your feet breathe.
Also be sure to seek medical help as soon as possible if something isn't quite right. Because foot infections can be extremely contagious, you don't want to pass it along.  And be sure to wear flip flops or thongs in communal areas such as public pools or showers.
Have you ever caught warts from going barefoot on public areas? Have you ever had problems with your feet?
---
Ad. Article continues below.
With Facebook removing news sites from your feeds we ask that you sign up for Starts at 60's emailers here. And to keep us on your wall, join some of our new Facebook groups and clubs:

News Junkies Club – Australia
News Junkies Club – USA 

See news on the change and links to all our other clubs and groups here.