Arthritis does not have to cripple you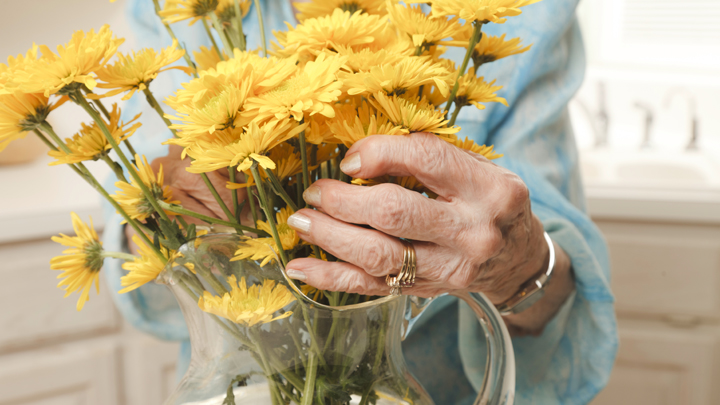 One of the images of older people is someone with a walking stick, hunched over and shuffling along. This image is used in parking lots to designate seniors' parking!
Arthritis can be caused by wear and tear of joints over the years (osteoarthritis) or by a disorder that is very destructive of joints, particularly in the hands and feet, called rheumatoid arthritis. Both forms of arthritis can develop at any stage of life although the damage to the bigger joints like knees and hips tends to appear later in life.
Arthritis does not have to ruin your life. Many people when they develop pain in a joint stop all exercising. It is important to do the opposite – keep exercising. Get help from a physiotherapist to find the best exercise program for you.
With long waiting times to see an orthopedic surgeon in a public hospital, then a further wait to get surgery, it is easy to end up housebound, overweight and totally unfit. This is not a good way to prepare for surgery. Now many hospitals provide pre-surgery water-based exercise programs to rebuild muscles that greatly improves the outcome.
June had arthritis in both her knees. She decided that she wanted to delay surgery as long as possible; she decided to learn to swim. She found that swimming seemed to help with the pain in her knees. It also helped her lose weight, which took much strain off her knees. She had more energy and was enjoying life much more now that she was more active and fit. She delayed the surgery for five years. When she did have knee replacements, she recovered very quickly after each surgery and was back in the pool within a few weeks and has continued with her very active life.
Ad. Article continues below.
Mary has had rheumatoid arthritis since her early 20s. She has not let this stop her! She has worked full time in her profession. She is an avid hiker and mountain climber, having climbed several well known peaks around the world. As she approaches her senior years, she has no intention of stopping. She has a good relationship with her rheumatologist, and they have experimented with various medications to find the most effective ones for her. She is planning many more adventures and sees no limit to what she can do.
Arthritis does not have to cripple you. Find a way to get around your particular limitations and get yourself as fit as you can and live life to the full. Get help from your doctor and allied health professionals to achieve this. Medicare provides access to many additional services to do this.
Enjoy life to the full.

Today is World Arthritis Day. Do you have arthritis? How do you relieve the pain? How do you live life to the full with arthritis?