And you thought Dolmio was bad... These foods are even worse for you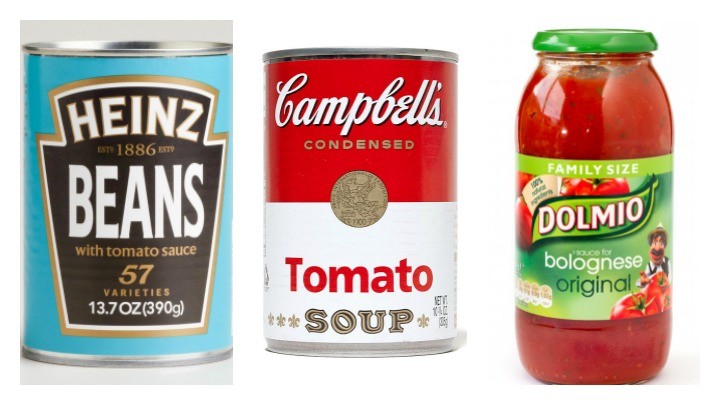 Last week, Dolmio made the surprise announcement that it was rebranding its range of pasta sauces as "occasional" foods due to their high fat, sugar and salt content.
Now, a number of other popular food items have been named as even worse for our bodies and our health than the popular pasta sauce.
Items including, Campbells' cream of tomato soup, Heinz baked beans, and Alpen apple and raspberry muesli have been proven to contain an unhealthy amount of fat, sugar and salt.
While most people know to avoid eating things like chocolate and chips everyday, these supposedly healthy items have had everyone fooled.
The recommended daily amount of sugar for adults is about 12 teaspoons, but Australians currently consume around 30 teaspoons per day – more than double the recommended amount.
Ad. Article continues below.
CAMPBELL'S CREAM OF TOMATO SOUP
While a nice bowl of tomato soup may sound healthy, this version is actually packed with sugar. A 295g serving of the soup contains 12.8g of sugar and is high in salt with 1.66g in every serve.
BOL MEXICAN SWEET POTATO CHILLI
This popular quick and easy meal is meant to be a healthy version of Mexican street food. It's full of veggies and promised to deliver two of your five veggies a day, however, it contains 13.7g of sugar per pot and it has an orange traffic light symbol health warning for its 1.37g salt content.
HEINZ BEANZ
Ad. Article continues below.
Beans have a lot of good things going for them and are high in fibre, however, these versions are packed with extras thanks to the added sauces. A half-can serving contains 9.8g of sugar and is high in salt with 1.22g per serving.
ALPEN RASPBERRY & APPLE MUESLI
Muesli can be a great way to start the day but this version contains a whopping 11g of sugar per 45g serving. When you think about the fact that we are only supposed too eat 12 teaspoons of sugar a day, it's easy to see how it all adds up.
ACTIVIA TASTY VANILLA AND CRUNCHY CLUSTERS BREAKFAST YOGHURT
Yoghurt can be a great snack to eat on the go but you have to look out for the added extras, like flavourings and cereals. This pot contains 21.3g, meaning a 160g serving as three times the amount of sugar as the Dolmio sauce that kickstarted the whole debate. Because it's a low-fat product, it has been packed with sugar to increase the flavour.
Ad. Article continues below.
INNOCENT STRAWBERRIES AND BANANAS
A fruit smoothie may sound like a healthy option but it can be deceiving. While the sugars in this drink are all natural, they still contribute to your overall sugar intake and with such a high amount in a single glass it pays to be careful. This smoothie contains 26g per 250ml glass, making it easy to creep up over the daily recommended amount.
SUN MAID RAISINS
Dried fruit contains more sugar than fresh fruit and should be eaten sparingly. A 40g serving of Sun Maid raisins contains 29g of sugar, and while it's a healthier option than a chocolate bar, it pays to eat in moderations.
Where you surprised by any of the foods on this list? Do you watch how much sugar, salt and fat you eat?