A new drug that can slim your chin nearly available to public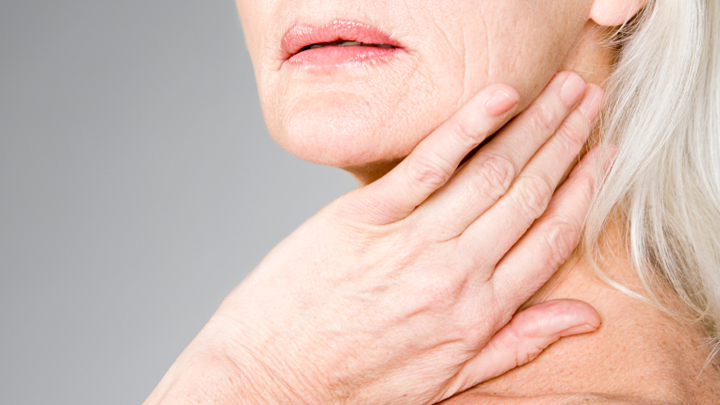 They always say you can tell how old someone is by looking at their neck and hands. But could it become harder with a medical breakthrough that could spell the end of double chins?
So many women and men in their 60s are sensitive about their "double chin" but soon, an injectable drug could be available that would eliminate the excess fat that sits under our necks.
According to the Daily Mail, the drug, known as ATX-101, is just waiting to receive final FDA approval before it is available to the public in the US.
Currently, if you wish to have a sharper looker jawline, you can have surgery that cuts or suck out the fat. The new procedure using the ATX-101 drug is non-invasive, says dermatologist Dr Susan Weinkle.
She told ABC News that many people have jowls even if they are not overweight.
Ad. Article continues below.
And how does this revolutionary drug work? The fatty area is marked with a grid of tiny dots, and each dot is injected with the ATX-101 in the five minute procedure. You don't even have to wear bandages afterwards!
The naturally occurring molecule deoxycholic acid makes up the ATX-101 drug and it helps to break down fat and destroy targeted spots, causing them to burst. Once the cells burst, they are simply absorbed back into the body and destoryed naturally.
So what are the side effects? Swelling, bruising and numbness was found in clinical testing of 2,600 patients, but if you had a successful set of treatments, would that be only a small price to pay?
Six treatments over six months are required for the desired slim look but some people do not need that man. Dr Adam M Rotuna told the Dermatology Times that the ATX-101 drug was a game-changer for those who worry about their neck – so many of us can't shift the fat in our jowls no matter how much weight we look. Dr Rotuna said, "We've been accustomed to addressing patient aesthetic concerns primarily from the chin up. However, the neck…is critical in framing the lower half of the face and creating our profile. Changes in the neck as we age or gain weight can have profound effect on our self-esteem".
Tell us, would you use this drug if it was available in Australia? Are you self-conscious about your chin? Tell us about it below.