10 unusual uses and benefits of coconut milk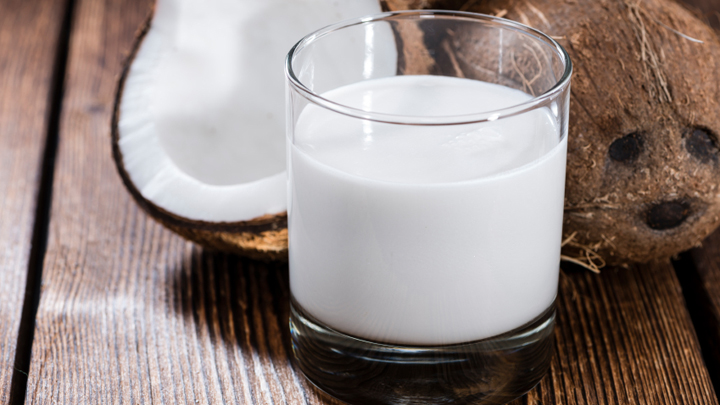 For a product you can buy at the supermarket for around 80 cents, coconut milk is often underestimated. Yes, it's great in Asian cooking and baking, but did you know this little tin of creaminess has other benefits and uses?
We've found 10 of the best uses and benefits so you can harness the goodness of this liquid gold.
1. Strengthen bones
To make up for its lower levels of calcium, coconut milk is packed full of phosphorus which strengthens bones and keeps them healthy. Simply drink coconut milk straight or add to your glass of milk or juice.
Ad. Article continues below.
2. Treat arthritis
Coconut milk is a natural antioxidant, and contains selenium, known to reduce inflammation in joints. You can drink the coconut milk and/or gently apply to your sore joints.
3. Lowers cholesterol
Ad. Article continues below.
It may look fatty but the saturated fat in coconut milk is the good type, and can reduce cholesterol levels faster than butter or dairy products. This is due to the lauric acid, which is easier for the body to break down. Put some coconut milk in your dishes in place of milk or even water.
4. Hair conditioner
If your hair is feeling flat or damaged, why not apply coconut milk? It's organic and non-greasy. Rub in from the roots to ends and leave in for a few minutes before rinsing. You can also leave-in for 30 minutes for a treatment.
Ad. Article continues below.
5. Moisturise dry skin
In the cold winter months, it's important to keep your skin moisturised, particularly if you're prone to skin tears. Rub coconut milk on your skin and leave for 30 minutes before rinsing to promote healthy skin.
6. Improve skin elasticity
Consumption or application of coconut milk improves skin elasticity due to its copper and vitamin C. These nutrients slow down the ageing process of your skin and body by maintaining flexibility and elasticity of the skin and blood vessels. Thus, it prevents wrinkles, sagging skin and age spots.
Ad. Article continues below.
7. Makeup remover
If you've run out of makeup remover or need something a bit mores sensitive, you can use coconut milk (homemade or store bought) and apply to your skin with a washer. It has the bonus of soothing your skin and moisturising.
8. Cancer prevention
Ad. Article continues below.
The lauric acid in coconut milk is only bested by human breast milk, meaning it is very good for you. Lauric acid has been linked to decreased risk of cancer.
9. Prostate health
The high levels of zinc in coconut milk may aid in decreasing a man's risk of prostate cancer – studies have show it can slow down the activation of the cancer cells.
Ad. Article continues below.
10. Relaxing bath
Add half a cup of coconut milk and a few drops of your favourite essential oil to a bath filled with lukewarm water.
Tell us, have you seen the benefits of coconut milk?