Become an awesome BBQ cook with 'The Big Marn's BBQ Cookbook'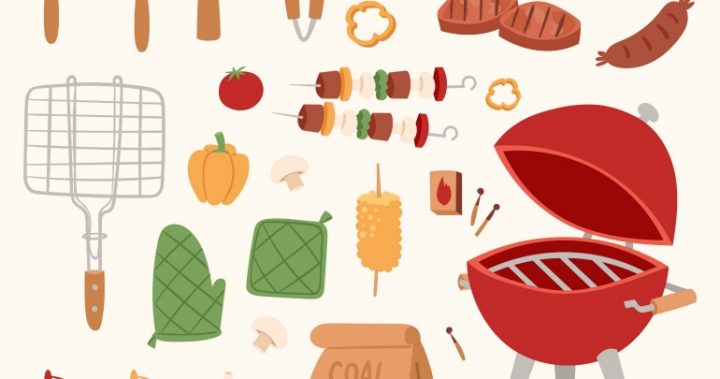 Wow! This is, as the title suggests, a big book by a big man.
Meet Darryl Brohman in his Introduction with pics and words of his rugby league playing record. The Tale at the beginning is just one that was begging to be told.
Darryl has very cleverly written his main Equipment Types (barbeque that is) as the Pre-season chapter and followed this up with Team Selection (more equipment, fuels and fire starting) and a BIG photo of the big man (himself) which just leaps off the page.
What next? 
Ah, the Back-up Team (silly me) of all that a good burger entails and a word on "The Footy Show". I love his "First Half Starters" from bruschetta to garlic and cheese kipflers and a whole lot more in between. Now we are getting right into his comprehensive book. 
Ad. Article continues below.
Most recipes are accompanied by a motivating full page quality photo. Headings are large with the number of servings, a straightforward ingredient list and method. The clarity of words is enhanced by semi-gloss paper and print on white paper. I for one love the latter and the whole layout.
Chapter 3 is Finger Food and another tale. There are just two very appropriate recipes. Simple! Either this or that which is all one needs in the great outdoors.
Next, comes big marn's BBQ Immortals; ribs, pork, lamb, chicken, prawns and a delicious roast beef special. Mostly just one of each in the same straightforward easy to follow style.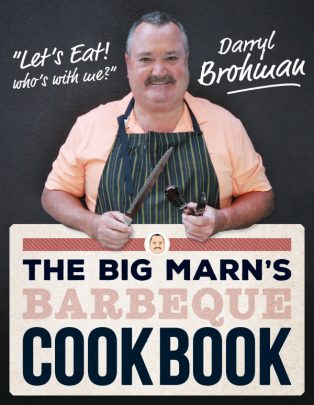 The "Second Half", (chapter 5) is, of course, more substantial with that great Aussie tradition of theperfect steak. At last, perfection in a steak. Actually perfection in a delectable succulent variety of steaks. Steak with pepper sauce is for me. However, the lamb recipes are my favourites so out comes the barby this weekend and in come the footy team (neighbours). Try lamb kebabs (served on pita bread) or nut crusted lamb rack. Once again a full range of meat including pork, chicken and even turkey legs.
Ad. Article continues below.
Another entertaining anecdote of the 'best team' and then "On The Wings". Again beautifully illustrated and "Big Marn Tales". Not to be forgotten is The Scrum (chapter seven). Now, what could this possibly include (mash, my brain says)? No, anything and everything in a bun but beware the big humorous man with the big knife!
A double page colourful photo reveals yet another chapter. (Guess what this will be before you buy the book). The all-important "Sidelines" including GREAT caramelised onions. One page is devoted to "life in the media" and is a must-read for all.
Oh! I forgot, how appropriate is chapter nine. The Wooden Spoon. However, it is NOT wooden spoon 'stuff' at all. I arrived here to find seafood. To me, the ultimate in barbeque food and what an unfussy straightforward but tempting collection. I love the suggestion at the bottom of the page on barbecued whole snapper.
Finally! Who is "Offside"? Certainly not Darryl Brohman. If you are a fan of marinades, salsa or relish NOT out of a bottle but made easily with fresh ingredients and flavours that we are all familiar with and have in the pantry this chapter is for you as well as the grand finale.
I want to keep this book for myself but I know the male counterparts of my family will all want a copy for Christmas or birthday. (Or just to say in an underhand way that their barbequing needs to improve). Looks like I will need to purchase several.
The Big Marn's Barbeque Cookbook by Darryl Brohman is available from Dymocks. Click here for details