Yummy tomato, spinach and ricotta pasta bake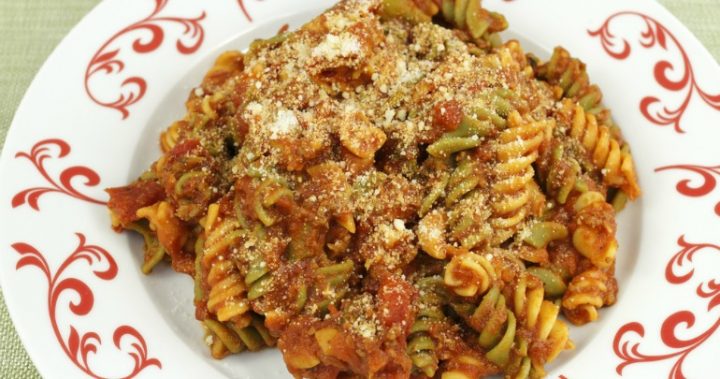 This tasty tomato, spinach and ricotta pasta bake is just perfect for those lazy nights when you simply can't be bothered cooking up a storm, but still want something yummy for dinner.
It's full of flavour, from the milder creaminess of the ricotta cheese, through to the sharper flavours of the prosciutto and parmesan. The spinach and cherry tomatoes give it a delicious freshness, and it doesn't have that heaviness that so many other, creamier pasta bakes have.
It's filling and tasty, and perfect for a cold evening at home in front of the telly.
Ingredients
375 g fusilli pasta
6 slices of prosciutto, torn into pieces
400g baby spinach
400g cherry tomatoes
200g ricotta cheese
100ml milk
1 garlic clove, crushed
1 teaspoon dried oregano
20g Parmesan cheese, grated
Extra virgin olive oil, for drizzling
Method

1. Preheat oven to 180C.
2. Cook pasta in boiling, salted water according to package instructions, then drain and place in a large baking dish.
3. Add spinach, cherry tomatoes, ricotta cheese, milk, garlic, oregano, and half the prosciutto, and stir until well combined.
4. Season well with salt and pepper, and top with remaining prosciutto and parmesan cheese, and drizzle with olive oil.
5. Bake for 15 minutes or until golden. Serve with extra freshly grated parmesan, and salad.