Sweet white chocolate tart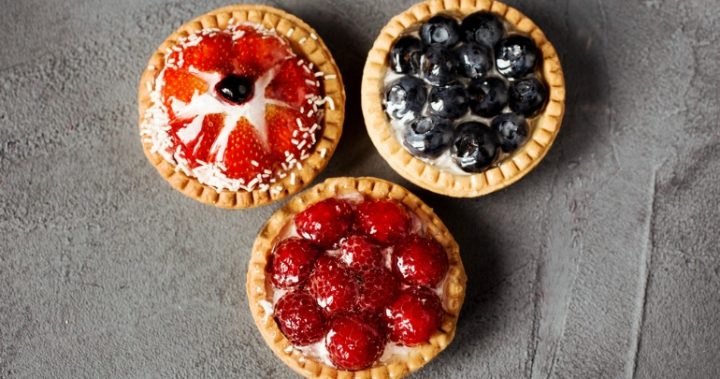 These double chocolate tarts are perfect for desserts and afternoon treats. Pair them with a scoop of vanilla ice cream or drizzle chocolate sauce over the top for something extra.
If you're feeling like you need a sweet fix then give these a go and top with berries to add a tangy flavour into the mix. These decadent tarts have a chocolate pastry base and a white chocolate filling that are guaranteed to satisfy your after-dinner cravings for sweets.
Ingredients
200g white chocolate baking block, chopped
300ml carton thickened cream
2 eggs, lightly whisked
1/2 teaspoon vanilla extract
Mixed berries, to serve
Chocolate pastry:
125g butter, chilled and chopped
1 cup (150g) plain flour

1/3 cup (40g) almond meal

1/3 cup (60g) icing sugar mixture

1/4 cup (30g) cocoa

1 egg yolk
Method
Place the flour, butter, almond meal, icing sugar and cocoa in bowl of food processor and mix until it looks like breadcrumbs. Add egg yolk and continue to mix until dough forms. Flour a surface and shape dough into a disc. Cover with cling wrap and refrigerate for 15 mins to rest.
Preheat oven to 200C. Cut dough into 8 portions. Line the pastry into eight 8cm fluted tart tins with removable bases and place in fridge for 30 mins. Bake and make sure to fill with pastry weights or dried beans to ensure they stay. Remove weights after 10 mins and bake for another 10 mins to cook pastry through then remove. Reduce oven temperature to 150C.
In a saucepan on low heat combine white chocolate and cream and stir for 5 mins until chocolate has melted and smooth. Set aside to cool.
Whisk in eggs and vanilla into chocolate mixture until combined. Pour into each pastry case and bake for until set for 15-20 mins.
Place in fridge for 1 hour to chill. Top with mixed berries to serve.