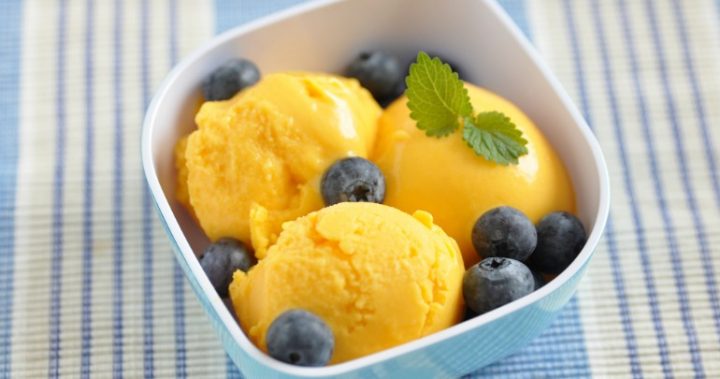 Good news, it's officially mango season! This means we finally get to experiment with new and exciting recipes involving the popular fruit. This recipe is ideal for beating the summer heat. It can be stored in the freezer as a tasty snack to satisfy your sweet tooth, or made as a deliciously refreshing dessert. It's quick and easy to prepare and makes for a super cheap dessert option if you're having guests over.
Take advantage of the mango season and try this delicious treat to cool you down!
Ingredients
110 g (1/2 cup) sugar

125ml (1/2 cup) water

4 large ripe mangoes, peeled (keep flesh)

60ml (1/4 cup) fresh lemon juice

2 egg whites

15g (1/4 cup) blueberries
Method
In a small saucepan, mix sugar and water together. On medium heat, stir until sugar has dissolved. Bring to boil then remove from heat to cool.
Chop flesh of mangoes and puree in food processor or blender until smooth. Pour in sugar syrup and lemon juice. Blend together.
Transfer to shallow metal tray. Place in freezer until almost set. Transfer to food processor bowl. Combine with egg whites and blend until smooth. Place in freezer until firm. Top with fresh blueberries and serve cold.